Online sensation Abhilash Thapliyal, better known to play various funny characters on Internet, says he doesn't identify with abusive content online. For that matter, censorship may be required soon! By Chhavi

Me: The ever so dramatic and charming Abhilash Thapliyal, the 'Youtube star..'
AT: 'What? No! Call me an online sensation'
Me: The actor..
AT: 'Actor? Are you forgetting RJ, voice over artist..?'
Yeah. It is for thoughtful deliberations like these that the interview that was to end in twenty minutes lasted for almost an hour! The very versatile Internet celebrity Abhilash Thapliyal whose lethal combination of humor, wit and sarcasm have been widely appreciated, talks about his liquid identities and his love to build characters such as the in vogue, 'Muffler Man'.
So where did the idea (of The MufflerMan) originate from?
Well, I had been observing Kejriwal since his entry into politics. I realised he was not doing anything besides dharna (hunger strike), so let's do something about it. Two of my friends Abhinav and Dev along with me came up with the idea, and we started recording on the phone. We did not know where we were going. But we don't stick to one political figure. Har kisi ki bajane ka pura mauka diya jata hai!(Our sarcasm doesn't spare anyone). I think people relate to the spoofs we create and that is why it has become this big. And that's how the first political satire online, the only one up till now began.
Do you think going viral online also brings a certain sense of responsibility?
Going viral online means you are doing great. But making someone laugh by using abusive words is the easiest thing. It's better to use intelligent humor. I am not in favour of gaali galauch humour. Videos on YouTube are consumed by various age groups and it wont be right for a child to see such videos and get influenced by them. I think censorship will be needed sometime in the future.
Don't Miss – AIFW: Green room images of FDCI's model hunt tell a story of aspiring models
Don't Miss – Rishi Kapoor: 'Unlike rickshaw wala audience before, there're multiplex viewers for good cinema today'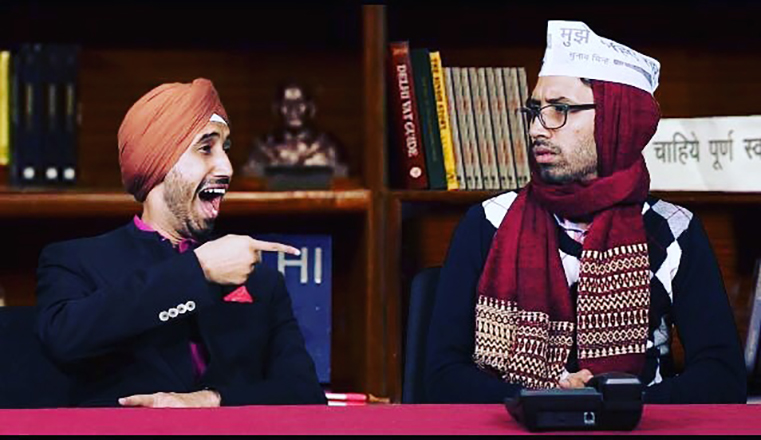 How has your upbringing shaped you as an actor?
I was an army brat who intended to get into the Armed Forces himself, but I did not get through. Acting was something that came naturally to me. It just happened. I did not audition for any of the roles I have performed. I just made one mistake, parents ko sunke science le li (listened to my parents and opted for Science). I still have nightmares that my result has been declared and I wake up with a start. But the army background made me more of an extrovert. With an unstable home and friends you learn to adapt to situations quickly and the urge to explore also grows. But the way people look at me now makes me happy. My family and friends are excited about all the ventures I undertake, the most recent being my upcoming film Makhna.
Tell us about your character in Makhna.
I am playing the character of the best friend of the lead character (played by Saqib Saleem) in the movie. I play a middle class guy from Lajpat Nagar, who aspires to become a property-dealer. He remains in awe of all things big and grand. He plays the role of the lead's best friend and they share everything. What made this venture memorable were my co-actors Tapsee Pannu and Saqib Saleem. The process of movie-making became a fun-filled and a good learning experience for me. We all share the same background from Delhi, so we connected quickly. Both have a chilled-out demeanor and they actually helped me to enhance my performance.
Don't Miss – (Exclusive) 'Won't be a runway designer': Tanira Sethi
Is Bollywood your destination?
It is not a destination. I love doing characters and I am passionate about my work. Different platforms require you to perform differently. On radio you just play with your voice, online the consumption is one to one, while on television you are viewed by a family. In movies you have the script in your hand, but you can always improvise and do whatever you want with it. Stand up is something I don't associate with, but I enjoy performing impromptu. What has brought me so far is the fact that I don't expect too much. I just do my work devotedly. My first film has not released and I have another film offer already. I am still continuing everything else that I want to. We are coming up with new concepts and ideas for online media as well.
Catch his latest gig on YouTube right here!
https://www.youtube.com/watch?v=lMUibnMT7Q4
(You can follow Abhilash Thapliyal on Twitter here!)
Let's Connect!
Facebook: https://www.facebook.com/bornofwebIndia/
Instagram: https://instagram.com/born_of_web/
Twitter: https://twitter.com/BornOfWeb
Google Plus: https://plus.google.com/u/1/+KaranBhardwajBornofWeb
Pinterest: https://www.pinterest.com/bornofweb/
Comments
comments