If you haven't had the chance to get #farzified by now, we have got another excuse for you. The famed restaurant has launched a terrace area with additions on their menu (Oh yes!)
At Farzi Cafe, every dish has a story to tell. That's one of the reasons why they are among the best in town. During a conversation with Chef Sainyam Kapoor, Head Chef at Farzi Cafe, CP, I discovered a story behind Dark Bungalow Chicken Legs, a new addition to their terrace menu.  The Chef told me, "In older days, Kolkata had 'Dark Bungalows' for travellers. There, the people who'd stay were served with chicken curry prepared with fresh local produce in the city. Farzi's version of it presents a re-imagined version in form of kebabs but with same old warm flavours." This is how a traditional recipe travelled all the way from Kolkata and now sits happily in the menu here. And this is how cultures fuse, perhaps in one of the best ways, in the kitchen of a restaurant.
The new range of dishes also include — a creative Paneer Salad that brings in the freshness of Mexican flavours; Mushroom Kulcha, a dish that blends the smokiness of mushrooms, sauteed for long over hot plates, with cheese, to imply how intricate flavours can get. Then there are personal favourites like deep fried Upma Bytes filled with mozzarella, crispy mirchi pakodas (Chilli Fritters as they call it) made with special Bhawnagri chillies that come from a place called Besan Nagar in South India; Dal Moth, a unique chaat served in an earthen little pot, Wok tossed Vegetables with a Hyderabadi Saalan made up of peanuts, sesame & tamarind along with a weaved khameri Kulcha.
Warning– Mouth-watering pictures below:-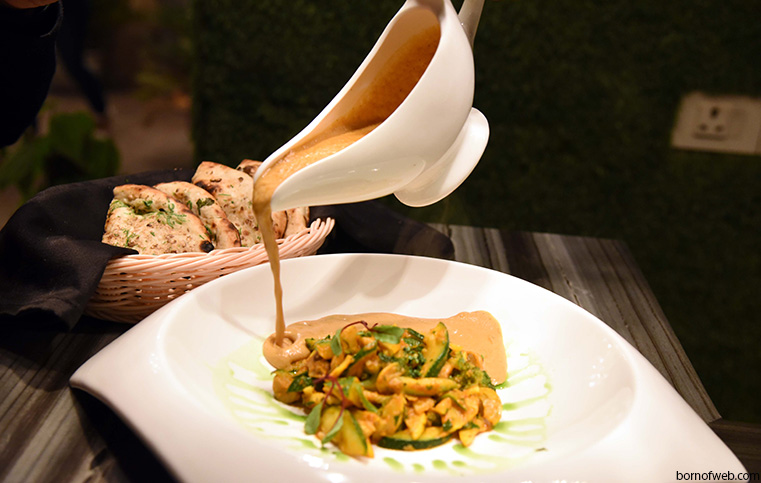 This dessert involves a bournvita infused hot chocolate; sure to give you a trip down the memory lane.
New Drinks on the menu:-
Gulaab Jaamun– Done with fresh rose water, bit of vinegar, jaamun puree, vodka, honey-liqour.
Drink on Highway– inspired by folk restaurants on highways. Made with blanched tomato water, jaggery syrup and dark rum served with fresh cucumber and coriander on the side.
Gazpachotail– Bringing in the concept of cold spanish soup 'Gazpacho' in the style of a cocktail. Prepared with fresh iceberg lettuce juice, nutmeg liquor, and a base of gin with a hint of lemon and some chilli flakes.
The all new terrace area (although we wish it felt a little more like a terrace):-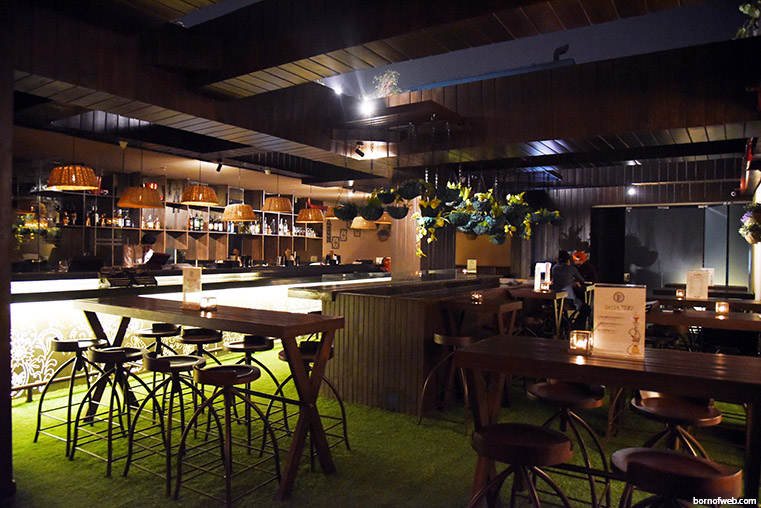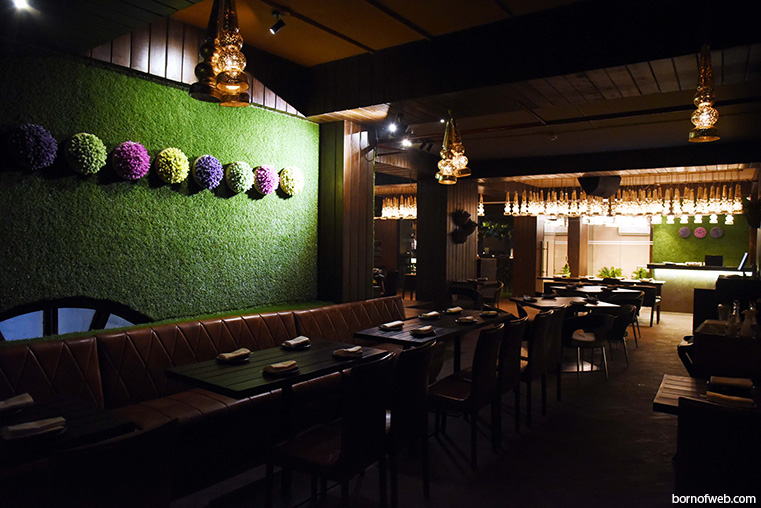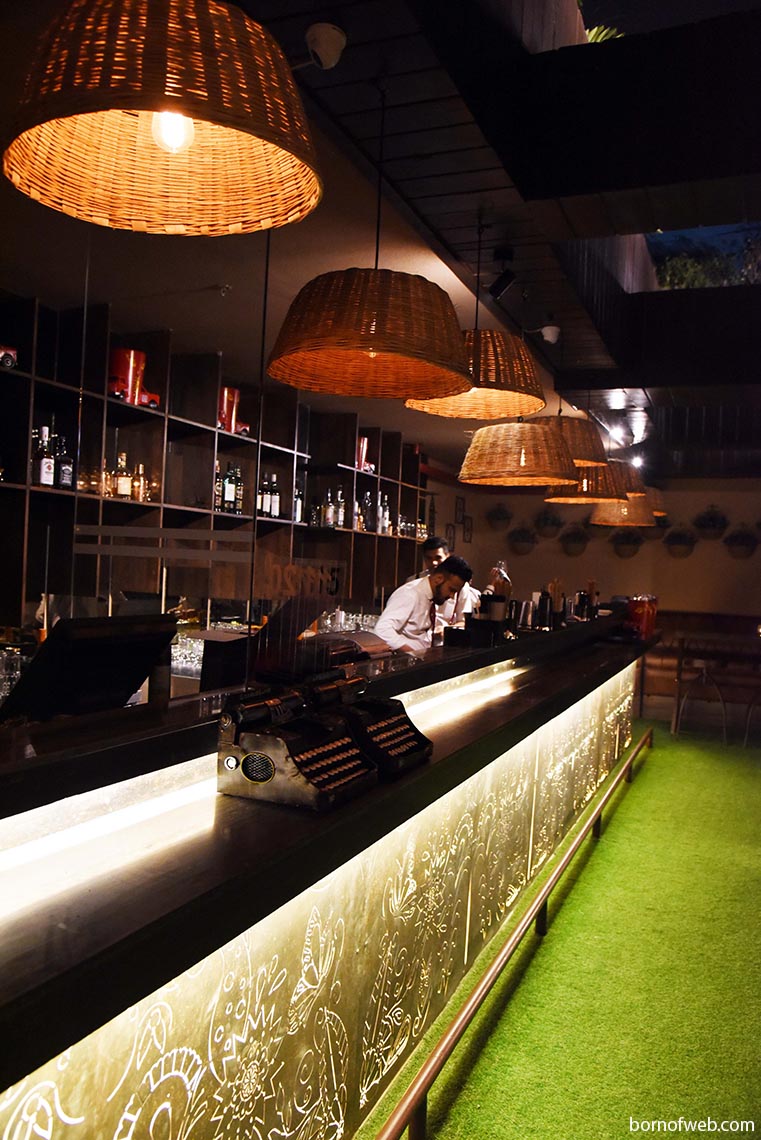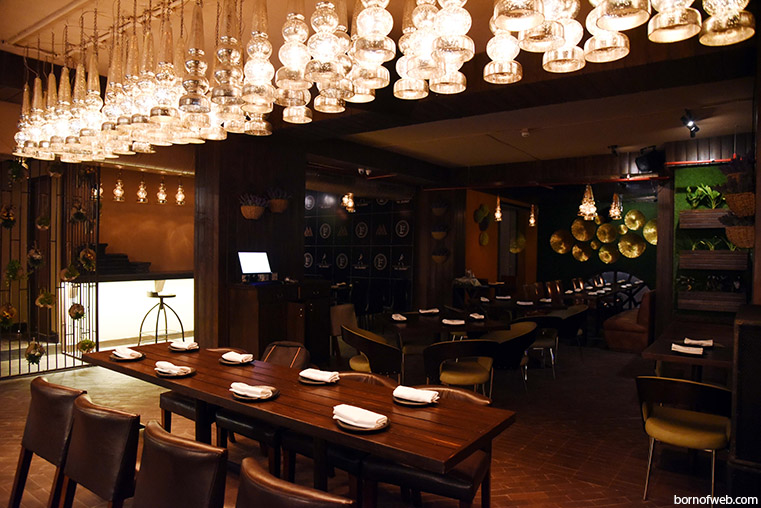 Once a foodie, always a foodie because why not!
Let's Connect!
Facebook: https://www.facebook.com/bornofwebIndia/
Instagram: https://instagram.com/born_of_web/
Twitter: https://twitter.com/BornOfWeb
Google Plus: https://plus.google.com/u/1/+KaranBhardwajBornofWeb
Pinterest: https://www.pinterest.com/bornofweb/
Comments
comments