The Monarch at the Indirapuram Habitat Center is a decent package of fun, food & frolic 
A pleasant terrace bar, a delicious set of dishes at BBQ, banquets to plan gatherings and a pub to host party animals, what else could you ask for under one roof? Located at the Indirapuram Habitat Center, The Monarch comes as a fresh hangout zone that breaks the monotony of regular dine outs.
An open terrace bar welcomes you as you enter the premise. A breezy day can be an ideal moment to visit this area. It does refresh your senses instantly. However, our love for barbeque took us to their BBQ area without further ado. Going by the chef's word, we ordered Agari Chicken Tikka, Corn Seekh Kabab, Jalandhari Prawn, Tangi Vegetables and Supreme Chicken. Sliced Fish in BBQ Sauce stood out clearly. It was well-marinated with a dash of chilies and sauces. Oh, did we tell you we were sipping 'Chocolate on the Rock' on the sidelines

Those who do not prefer over spicy food might like to try Fish Mallika Daria. Jalandhari Prawns were little juicy but gave us good exercise to chew. Chicken lovers must hop on Supreme Chicken. It's soft, crispy. We would like to skip Chilli Paneer Garlic Corn and Peshawari Potato. Paneer was bit hard while Patotaoes were too dry and salty.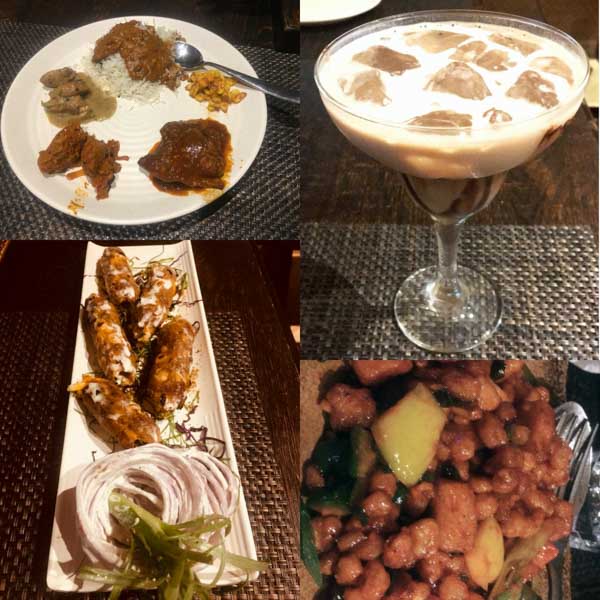 Well, now, it's time to turn to the main course from the buffet, which comprised over 50 grand dishes. We settled with Dal Monarch, Mutton Rogan Josh, Hyderabadi Chicken Biryani, Sweet and Sour Crispy Noodles, Rajma Raseeley and Jira Rice. After filling out tummy, we took a mini-tour of the place. A good excuse to walk!
Banquets are always a smart choice to organise parties. At The Monarch, there are three banquets ~ King, Queen and Prince with the capacity of 150+, 100+ and 30-35 respectively. After that, we moved to their lounge called Hook Pub N Kitchen. It was quite spacious with capacity to host over 80 people. Good part is that they have DJs ready to play at noon and nights. Ready to rock the floor? Guess, the best time to visit the pub is post 8 pm. You would have good three hours at hand to enjoy before they call it a day.
​If you like this story, you may also like to read:
Video: Delhi's Boombox Cafe owner, staff allegedly thrashed by drunk men!
Sabyasachi Mukherjee defends 'sari' comment, says 'women are top earners' on his payroll
Priyanka Chopra calls out Nirav Modi for not paying her dues for ad campaign
BornofWeb takes #PadmanChallenge to the streets. Watch Video!
#PodcastWithKaran: Neha Dhupia bares her 'Xtreme' side
(Exclusive) Sonal Mansingh debunks censorship debate, says she has been hounded for decades by 'secular leaders'
Would love to retell story of Radha from Indian mythology: Namita Gokhale, JLF co-founder & author
My desire is to open Indian doors to luxury brands from various countries: Ritu Beri
Let's Connect! Find exclusive content on your favourite celebrities on our social media links:
YouTube: https://www.youtube.com/c/BornOfWeb
Facebook: https://www.facebook.com/bornofwebIndia/
Instagram: https://www.instagram.com/born_of_web/
Twitter: https://twitter.com/BornOfWeb
Google Plus: https://plus.google.com/u/1/+BornOfWeb
Pinterest: https://in.pinterest.com/bornofweb/
Linkedin: https://www.linkedin.com/in/bornofweb/
Comments
comments