There are times, when we are tired to the bone, when calling that state 'exhausted' would be understating the real deal… And quite obviously then, you probably don't even have the time or the mind space to hit the salon or spa next door. Or maybe, you don't have your favourite spa/salon options close to where you live at all. But, relax and rewind you must! Enter the DIY Spa set up!
https://www.youtube.com/watch?v=Fsy1tIjLtA0&feature=youtu.be
Remember its best to go head to toe, if time and space permit.
1. Starting with the head, give yourself an old massage or better still call a therapist over, warm the oil if the weather permits and let it stay for a couple of hours. Coconut oil is one of the best options of deep conditioning and keeping the scalp health. Of course, almond and argon oils do wonders to your hair texture.
You can also try Kronokare's anti-turmoil oil, which is my current favourite apart from coconut and almond based oils. Anti-turmoil's aroma is truly to die for!
2. While you're at it, sip on green tea or another detoxifying herb tea to kick in the 'relax' feels. If you don't feel like anything hot then, slip in some slices of lemon in a tall glass of water (don't go for chilled water, lukewarm or room temperature would be best).
3. While you get going with a head massage, soak your feet in warm water or better still add some bath soaks. Let them stay in for at least 10 to 15 off minutes.
4. If you have a therapist who can come over, its wonderful, if not, work on a light massage starting from the face (be very gentle), neck arms and legs, or whatever else you please.
I recently discovered the perfect companion for DIY spa, which is a candle and heated massage oil all in one- that too with a fragrance. Watch the video above. The Body Massage Candle featured above is from a brand called SeaSoul (based of Dead Sea Minerals & (Botanicals). It comes in six different flavours and varieties (more on that on the section Swag in days to come). A single candle can cost you anything between Rs. 1,499 for full sized candles and a set of six small massage candles is priced at Rs. 1800.
Light the candle about 4-5 minutes before you start. Use a wooden spatula to scoop the melted oil that emerges on top and massage till the oil is absorbed by the skin. It leaves a nice soft layer of wow, and that's not surprising at all as these little muti-taskers actually contain, Shea Butter, Jojoba, Sesame, Argan Wheat Germ Evening Primrose and Hempseed along with their aromatic cousins, all in this little glowing wonder. It can be ordered online.
(Don't Miss) How to detox your skin & body post festive season!
(Don't Miss) Is it possible to ever get rid of dark circles?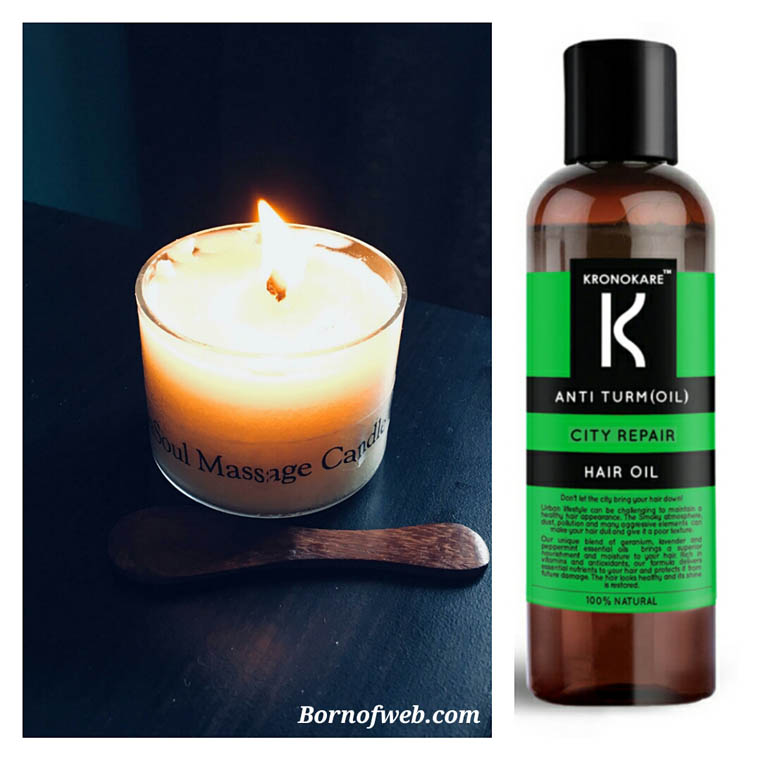 5. Rest it out for a little while and work up the geyser, before starting the session mentioned in the earlier point.
6. Wrap your session with a nice long warm water bath and leave on the shower with the bathroom door locked for a few minutes, so you get a bit of the sauna feel, not that much though. (And yes, be mindful not to waste too much water. If you can run the warm water from a tap into the bucket, you'll avoid wasting the water for this process.
Comments
comments