An 'adventure resort' is what I'd like to call it
When seeking for a refuge in the hills of North India, 'off-beat' or less-crowded places are what are most preferred these days. Secondly, with the tourism industry flourishing in almost every part of the nation, finding a qualitative stay is hard. So if you're planning to spend some exclusive time with your family or friends away from the mundane city-life, look for Aamod at Shoghi. Some 13 kms to Shimla, after you'd have passed by Solan and Dharampur, soon on a curve you'll find a sight like this (below picture)…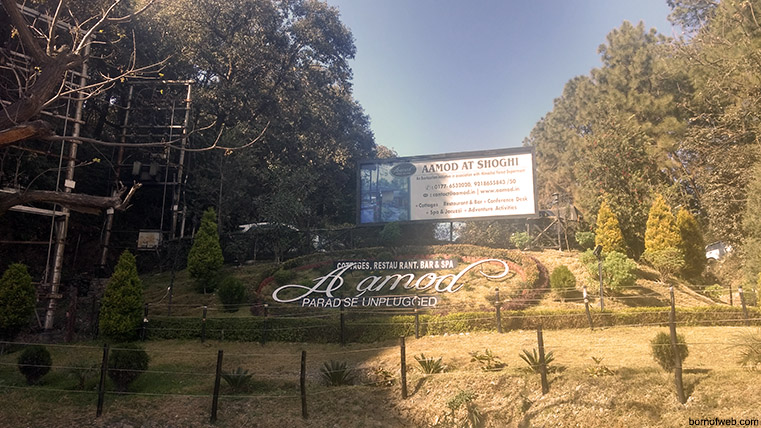 …and the experiences that you're in for, once you set your foot inside, shall unfold one after the other.
So this is a resort built entirely on a slant slope, with hundreds of pines and deodars running through. You'll not find any concrete structures for long after you make your way inside, because there hardly are any. For starters, you may choose to hike up a few meters to reach the point where the resort actually starts, or you can get yourself carried by a cab they provide (Choosing to hike would be a recommended option as it'll help you warm up for the adventures ahead). As you'll climb your way up into the chill, a warmly-lit dining space would welcome you with enticing aromas (if you happen to reach around the dining hours). Aamod's signature restaurant 'The Colonial' would play host to serve you some good food during your stay. With both kinds of seating areas- indoors as well as outdoors- the choice will completely be yours. When we talk about choice, Aamod at Shoghi has a way of pampering it's guests with an offer that says- 'You find a place, we setup a table'. Only when you'll actually be amidst this 'adventure resort' that you'll have an idea of how amusing an option this can be.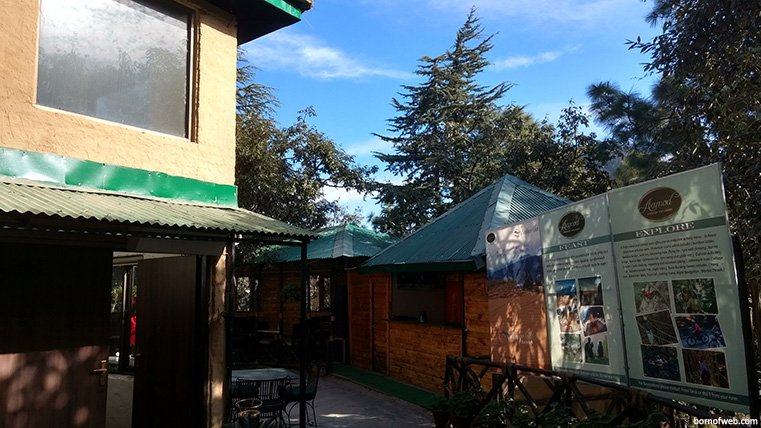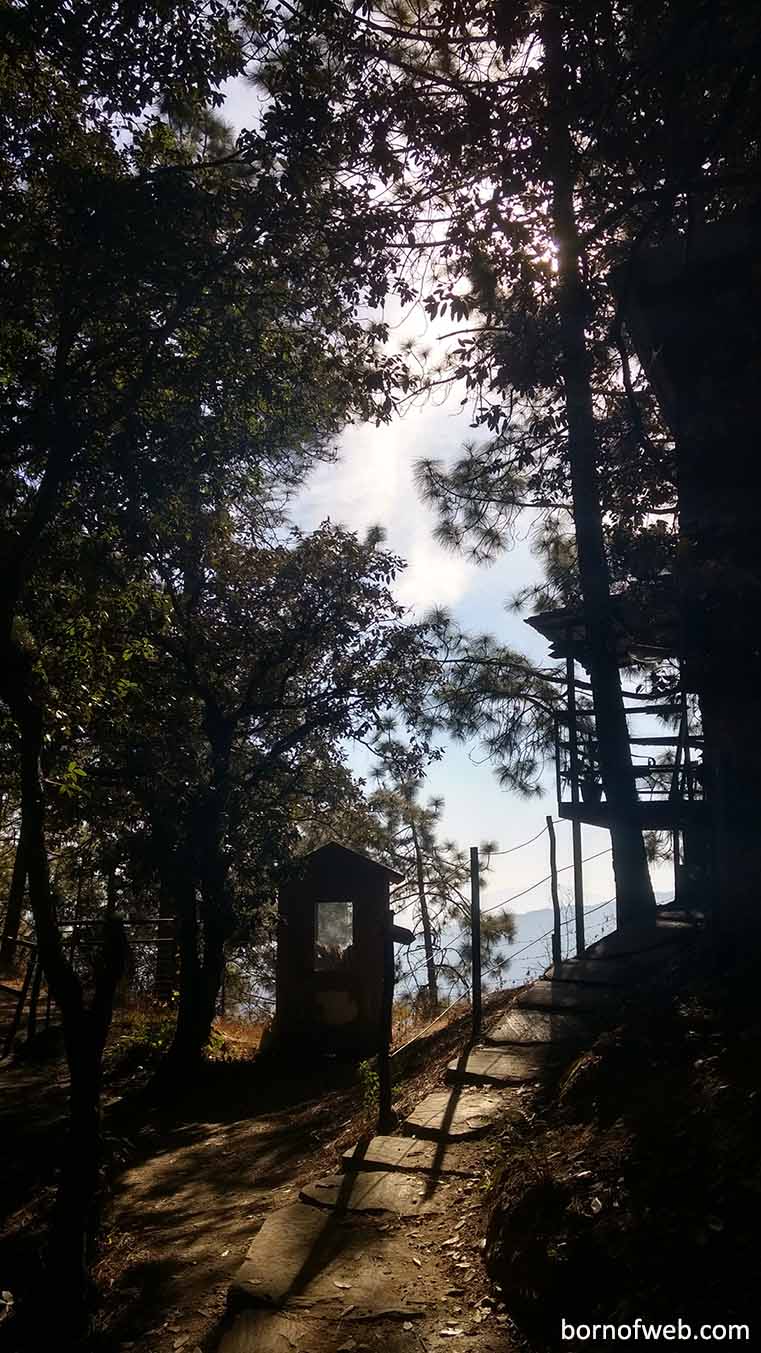 The rustic atmosphere of the property goes very well in sync with such little luxuries that Aamod offers. All the 20 rooms at the resort lie enveloped in beautiful wooden cottages. To combat with the biting chill, your room would prove out to be the little haven of warmth. But one must brave the cold to get out of the bed and relish all that the place has to offer.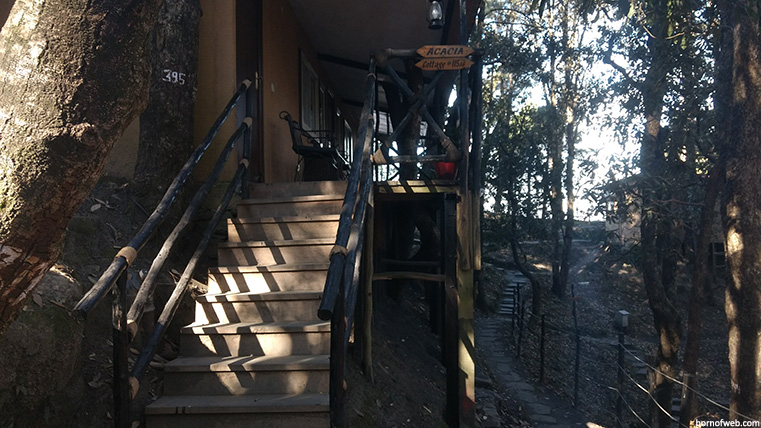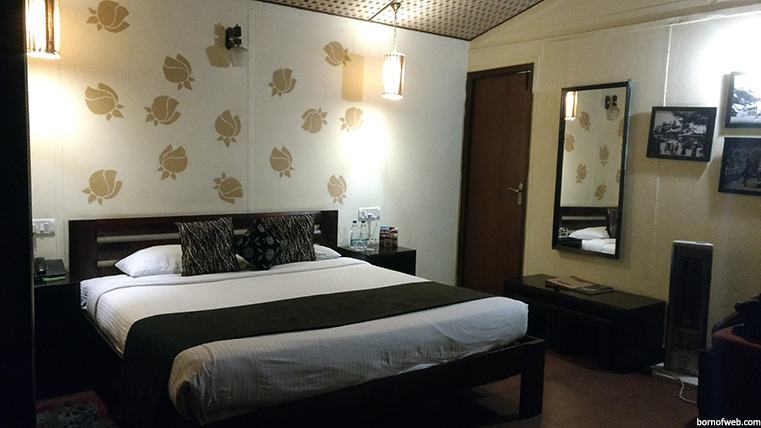 On one of the days during my stay there, Escape Route & Aamod arranged a lunch with a local family in a village nearby. So to reach there, we hiked a few kilometers down the valley, only to find two beaming faces of joy ready to serve us traditional Himachali food straight from the chulha; makki ki roti along with ghee and shakkar, a curd/yogurt-based arbi (colocasia), yogurt-based matar-paneer, a yogurt-based dal (So basically, a yogurt-based everything is what describes the Himachali khaana the best). Not to mention, in a very long time, I had a hearty lunch. Uncle prepared phulkas one after the other over the chulha while his wife made sure we had enough ghee in our plates. "The ghee is purely home-made, very good for health," she'd say as she poured some more from a tiny kettle.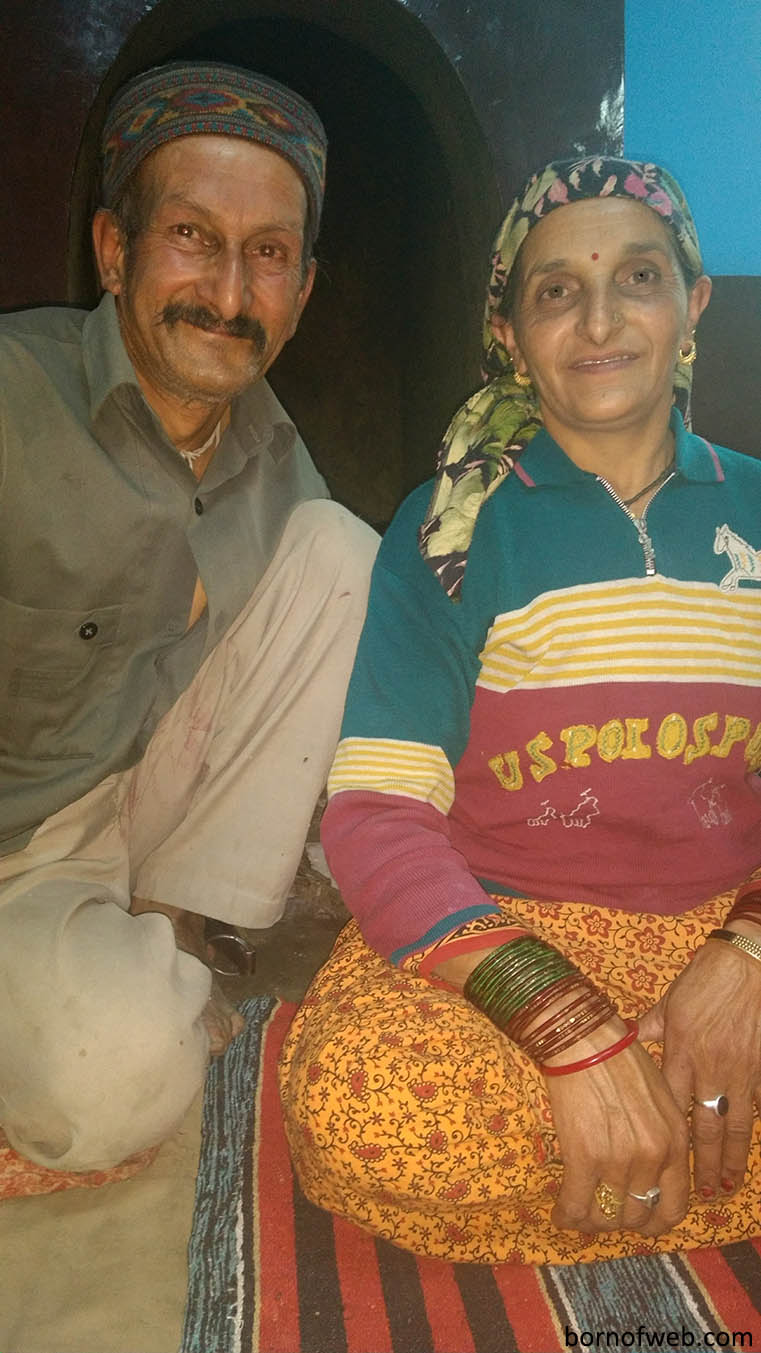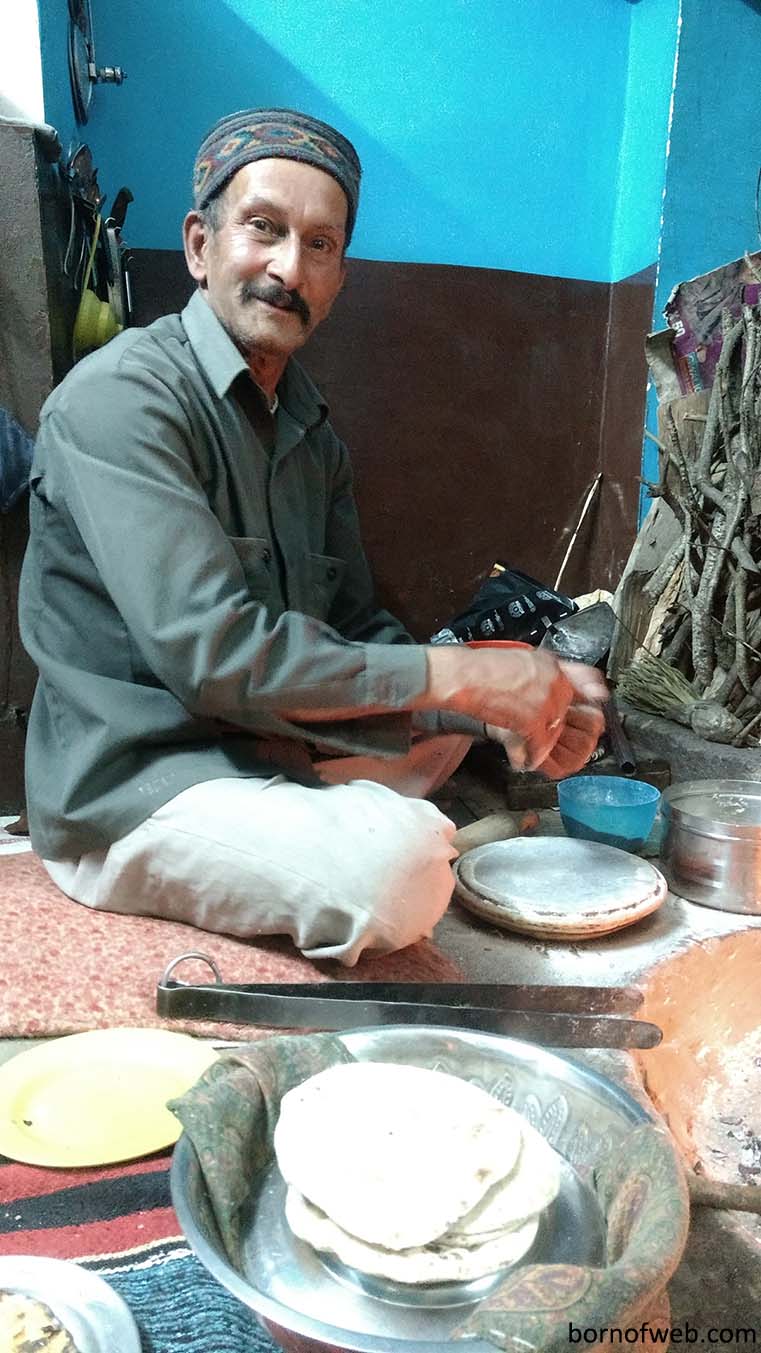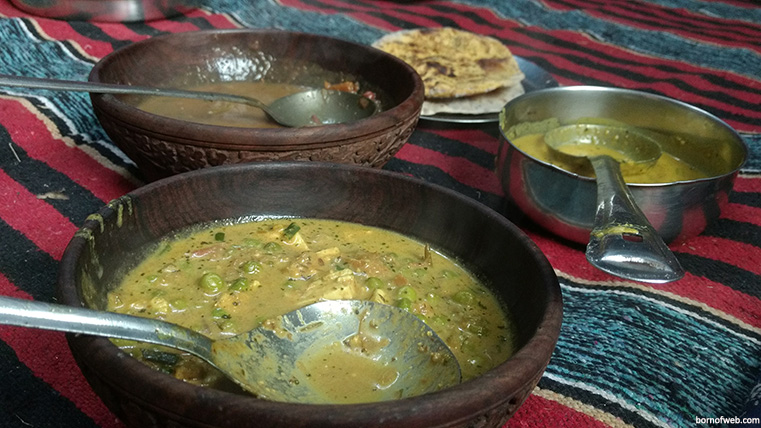 On another evening at the property, we were in for a cherish-able experience. A 70-something ex-para military commando, Ravindra Singh Thakur, played 'storyteller' for us. Under a cloudy-sky, we gathered around the bonfire and patiently heard to his experiences. As a local from Shoghi, he described how the geography around Shimla had evolved over the years. Sitting at a height from where we could view most of the landscape beneath us, he gestured with his hands as he gave us an idea of how it all was when he was young. From his encounter with Jawaharlal Nehru to the tale around Colonel Barog, after whose name the Barog tunnel, longest tunnel on the route of the toy-train to Shima, we listened to him in great awe.
If you plan a visit to this place, there may not be much of the so-called scenic beauty, but with just an adequate view to soak in, chirping of the Red Billed Blue Magpie, the Spotted Dove, or the Kalij Pheasant, you're surely in for a treat amidst nature in all its bareness.
Here's a little to-do list that might come handy when you're at Aamod at Shoghi:-
Get your adrenaline to good use by trying their in-house adventure sports, playing badminton, or go mountain-biking.
Have a bonfire evening with your loved ones while you enjoy a few drinks at the bar and sing some Karaoke (their playlist can very well be called an encyclopedia of classics).
Wake up early on one of the days and climb up till the highest point of the resort to witness the sun rise.
Avail the goodness of a body spa followed by a dip in their Jacuzzi 'with a view'- you can save this for your last day there.
Soak in the sun and just relax.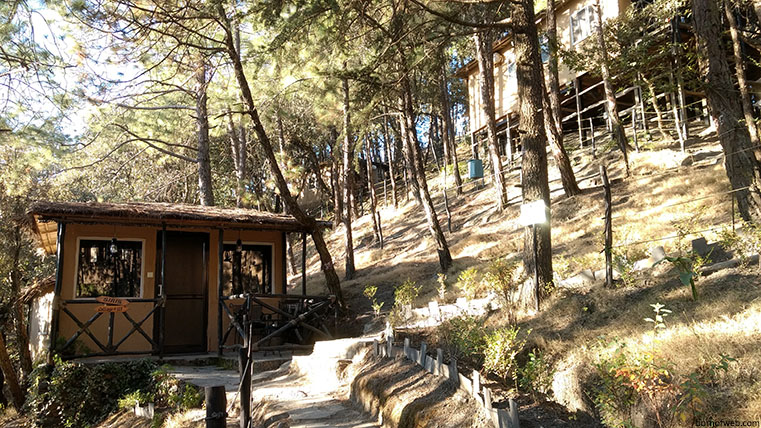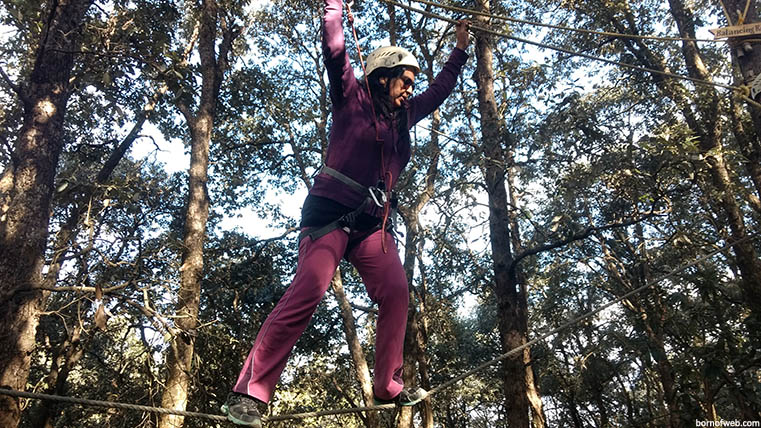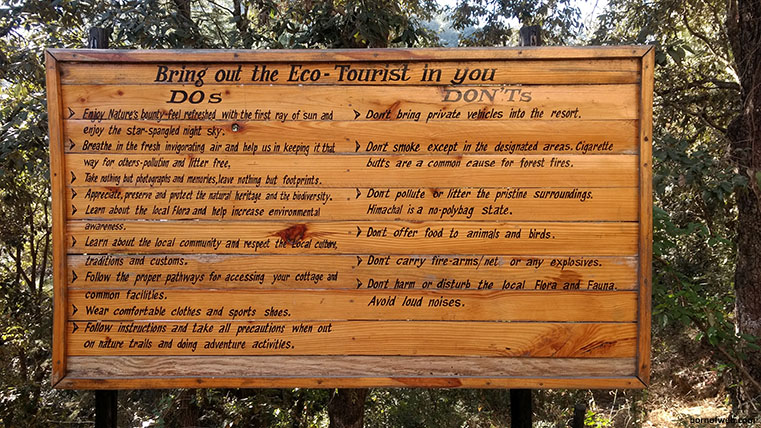 Let's Connect!
Facebook: https://www.facebook.com/bornofwebIndia/
Instagram: https://instagram.com/born_of_web/
Twitter: https://twitter.com/BornOfWeb
Google Plus: https://plus.google.com/u/1/+KaranBhardwajBornofWeb
Pinterest: https://www.pinterest.com/bornofweb/
Comments
comments