Designer GAURAV GUPTA'S thematic show raised concerns over climate change while models found challenging to cover the longest zigzag runway, reports KARAN BHARDWAJ 
THEME OF THE SHOW
What would have motivated designer Gaurav Gupta to pull guests out of designated halls for the fashion shows and arrange one long zigzag runway under the open sky? Well, he had a purpose. The designer wanted his guests to sit in an open area and ponder how bad Delhi's air has become while he showcased his autumn winter line, inspired by global warming. Gupta highlighted the concept through melting embroideries on gowns and jackets which formed shapes of dismantled glaciers.
Don't Miss: Ramola Bachchan's solitary moment at the fashion week!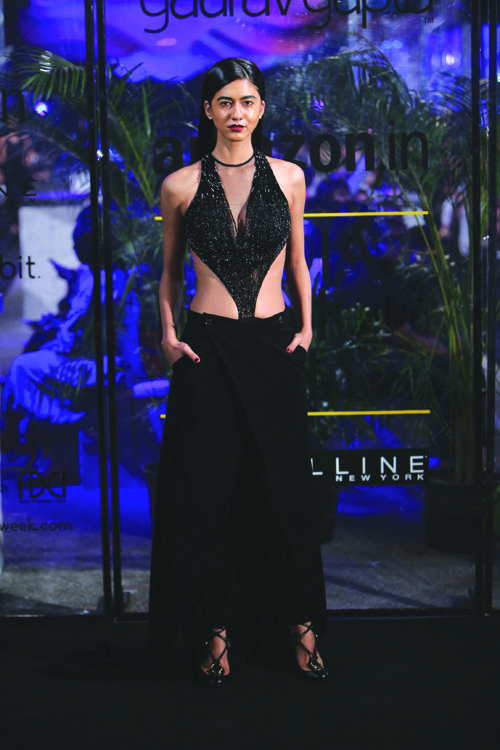 "I've been thinking about rising levels of pollution in the Capital. Climate change may lead to melting of earth soon. My clothes highlight my concerns," he said post the show. The colour palette for the clothes was "inspired by fire, so it had flame orange, blues and then absolute blacks, greys and whites."
MODELS WERE SPORTY TO TAKE ON THE LONGEST RAMP!
It was quite a task for models to walk the ramp for Gaurav Gupta. The long zig-zag runway had many organised turns as the audience was scattered in multiple boxes. However, the brigade of female models were seen carrying the evening gowns quite sportingly. They heaved a sigh of relief after the show got over. "We took a deep breath and many bottles of water," said actor and model Surelee Joseph, who walked for the show. Lakshmi Rana pointed out that she could walk smoothly only because of the ease with which the clothes have been made by the designer. "Nobody would have issue in walking in these clothes," she said.
Watch it in the video:
THE SHOW WAS LATE BY ALMOST AN HOUR

 
Guests too kept looking up in the sky for almost an hour as Gupta took his own sweet time to establish his set for the show. The runway was erected at the front walkway, right outside the MSA Halls, where shows were taking place. Since the entire area was cordoned off, guests were locked at the music area. The move by the organisers even put off some of the attendees. "They could have organised this area when the previous show was happening. Now they are not allowing guests to roam freely," one of the guests blurted out on the condition of anonymity.
Join us on Instagram, Twitter and Facebook!
Comments
comments