Diva Sushmita Sen unveiled Huawei's P9, which is also going to be the official smartphone at the forthcoming fashion week in Delhi, reports Rashima Nagpal
The excitement was palpable at the Taj Palace Hotel as Huawei's P9, which is expected to change the world of smartphones for ever, was launched amid glitter and show. We couldn't keep our eyes off the phone as well as its ravishing presenter Sushmita Sen. Although she stayed a short-while, with the presence of Cyrus Sahukar as the host and special guests like Boman Irani and a group of fashion designers, the event buzzed with energy all through.
P9 is a big leap for the Chinese manufacturer Huawei as this time it has collaborated with Leica for its premium quality camera lenses (note when we say lenses and not lens). Leica has exclusively designed a dual lens technology for P9. The phone is incorporated with 12 pieces of lens adjusted in six layers and yet manages to be a very slim phone (6.95mm). It has a uni-metal body, is very light and compact, and comes with a 5.2 inch full HD display. Moreover, it supports 96% full colour sensation besides 4000mAH battery. The smartphone, priced at 39999/-, is available in three colours and two kinds of finish, and comes with a two year warranty (inclusive of pick-and-drop)!
Keeping everything aside, the key aspect of this phone with a modern contemporary design is its camera. A 12-megapixel in the rear and an 8-megapixel in the front, the Leica camera is quite a sensational piece. It has been built to explore the art of photography. With dual pixel sensors (RGB as well as monochrome) your problem to create brilliant pictures in low-light and high-contrast environment gets solved. It is said to have 270% more light absorbing capacity than the iPhone 6S. Other features include a hybrid autofocus and an array of inbuilt photo options as well as filters.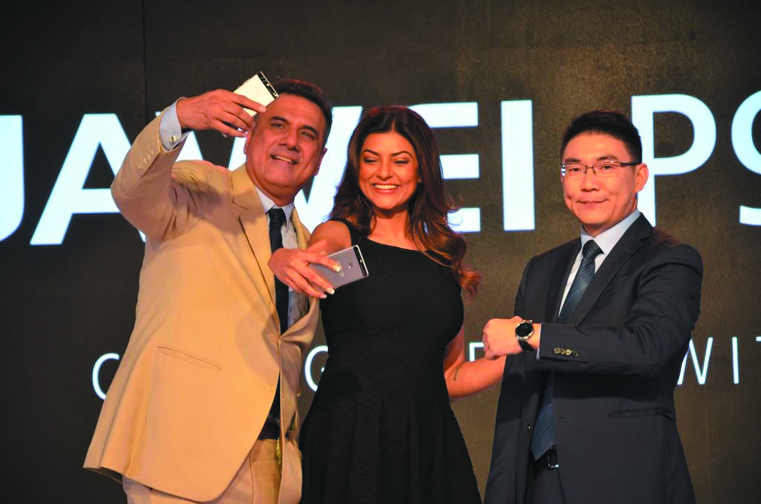 Boman Irani upped the launch to another level by presenting his personal experience with the camera through a couple of images he took. Not many of you would know the photographer in him who is very specific about the intricacies with photography.
Darren Centofanti, professional photographer & Leica camera ambassador, showcased the photos he made using P9. He called it "a camera with a phone", instead of the other way round.
Well, then came a thing for all the fashion enthusiasts. By the end of the event it was finally unveiled that Huawei has also collaborated with FDCI and is going to be the official phone partner for this year's Amazon India Fashion Week-Spring Summer 2017 due in October. To felicitate the collaboration, FDCI chief Sunil Sethi joined in with great excitement.  Let's see how good pictures P9 gives us of the fashion extravaganza.
Did we well tell you we too are going to use P9 for our social media coverage of the fashion week? Stay tuned!
*client
Join us on Instagram, Twitter and Facebook!
Comments
comments