Good performances are marred by a weak script in Indu Sarkar, reviews Shomini Sen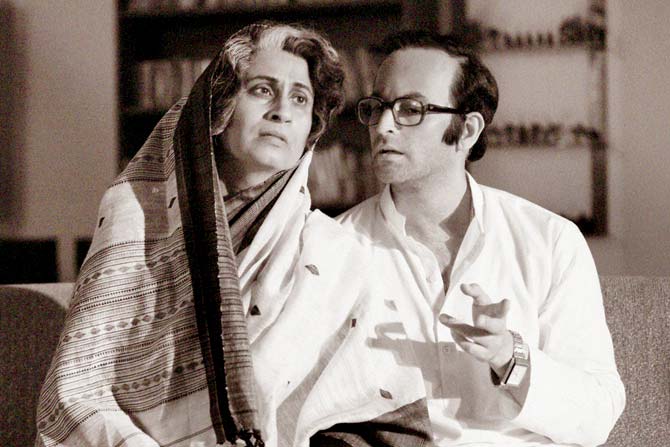 For a generation that was born in 1980s or later, Madhur Bhandarkar's new film Indu Sarkar may seem intriguing. Set during the Emergency era, the film talks about a stammering poetess Indu Sarkar and her fight against the government. Bhandarkar in his previous films has explored the world of glamour, cinema, politics, and even corporate houses- things that we are familiar about. But Bhandarkar treads a tricky path with Indu Sarkar as he goes back in time to narrate a story of an era which is not well documented in the pages of history.
The story is set in Delhi where Indu (Kirti Kulhari), an orphan and a closet poet, has only one dream in her life. To have her own family and be a good wife to the man she marries. She does marry Navin Sarkar (Tota Roy Choudhary), an ambitious bureaucrat who sees the Emergency as the perfect opportunity to grow in life. Indu, an outsider to the whole political scenario, seems content with her life until one day she stumbles upon something unpleasant. Stuck in an area where civilians are being indiscriminately fired upon by the police, Indu rescues two children and brings them home much to her husband's discomfort. While she begins looking for the kids' parents, she realises the politics behind the violence and how her husband is also involved in it and eventually walks out of the marriage.
Not much is documented of that era- specially because there was censorship on practically everything. But one does know that the then PM Indira Gandhi and her son Sanjay Gandhi played a crucial role during that time. The film opens with a scene where Police raid a village and take all the men in custody for forced vasectomy – a plan that was initiated by Sanjay Gandhi  to promote small families. Bhandarkar, also the co-writer of the film, touches upon the infamous Turkman Gate firing in Delhi that was carried out to clear the area for commercial purposes and demolition of urban slums to create flats in Delhi area. But these incidents are only briefly talked about and provide a backdrop to Indu's story of self discovery. In fact, while the film is set in a politically dark time, it is actually a story of a girl who discovers what she is capable of.
(Don't Miss) Have no godfather, but confident people will notice good work: Akshay Oberoi
There are of course some prominent characters in the story alibi with different names. Neil Nitin Mukesh looks and plays Sanjay Gandhi but is instead called Chief. His aides comprise Kamal Nath, Jagdish Tytler lookalikes in hideous wigs. There is Anupam Kher playing Nana, a cross between Jayprakash Narayan and George Fernandes – both of whom opposed and played active role in politics at that time. And one even gets to see a Indira Gandhi lookalike at the fag end of the film.
Bhandarkar's previous films have always been based on set formula with some very typical caricature characters. Indu Sarkar, fortunately does not have those typical, cringe inducing, over the top characters neither is the story based in Mumbai, a city that Bhandarkar is most comfortable with. This one is set in Delhi and that too in '70s Delhi, so a lot of attention has been given in detailing and recreating that era. Does it manage to create one? Well, it dwindles a bit. There are portions where the costumes seem to belong to that era and then in some places it looks too contemporary. The value of Rs 2 also isn't very clear. An auto ride and an STD call both seem to be of the same value.
Not just the screenplay but even the narrative dwindles and despite credible performances by Kulhari and Roy Choudhary, the film fails to deliver a lasting impact. The major problem with Indu Sarkar is that a film that should ideally serve as a lesson on how a democracy should function and how citizens should ideally always challenge erratic rules set by the government, ends up as a half-baked story with no strong message.
The actors deliver but a weak script mars their performance to quite an extent. Kulhari's stammering act also seems a bit inconsistent. I had hoped for Indu to protest with her fiery poems- a talent that we are told she has right in the beginning. But there are barely a few poems about nationalism and pride for one's country.  There is one long qawwali in the second half which refuses to get over and the overall pace of films just keeps dropping with every scene making the audience yawn in regular intervals.
Interestingly, the film was objected by certain sections of the Congress party as it was deemed as anti-Congress. Yes, the film does question the role of the government of that time and its autocratic rule. But during a court room scene, Indu is seen asking the judge on how can a government put so much censorship and curb the free thinking- an issue that perhaps remains relevant even in today's times under the current government's rule.
Bhandarkar's film is well–intended but somewhere loses focus and fails to leave a lasting impact.
Comments
comments