As Jodhpur RIFF kicks off its 10th edition, festival director Divya Bhatia looks back at milestones and challenges. He tells Karan Bhardwaj there is no major sense of achievement unless there's an economic impact in the lives of folk artists
As Jodphur RIFF opens today, it is going to enter in its 10th edition, and yet Divya Bhatia, the festival director and a theatre guardian, believes there's a long way to go. You tell him almost all magazines and journals call RIFF as one of the most promising music fests in the world, and he returns, saying that all of it makes little sense if the festival is not impact worthy in the lives of folk artists. "For me, Jodhpur RIFF is not about achievements, satisfying moments or longevity. It is about its influence in the life of artists and music aficionados. We are much bigger than a fest. We want to create an ecosystem for an artist where he enters, performs his art while retaining his simplicity and yet absorbs and understands different parameters of world music," he says.
FOLKS, THE ECONOMY
One of the by-products of the festival is the overseas collaborations of folk artists with musicians from different nations. For almost a decade, several projects have had local musicians touring abroad to perform. According to an estimate, Jodhpur RIFF alone has been able to distribute Rs 22 lakhs among folk artists just by fostering tours and collaborations. Divya says that the festival is moving in the right direction and has achieved some results. "The biggest impact is perhaps the mainstreaming of the otherwise marginalised folk community. Now Rajasthani folk artists feature prominently in television shows like Coke Studio, and are also bringing out albums," he says.
Even this year, they are recording an album during the festival called The High Road to Jodhpur. "It's a collaboration between seven Scottish musicians and eight Rajasthani artists. The dialogue between these artists began three years ago when they were performing with each other in their respective countries," he says. There's another album called Jodhpur Nights, which has been fully recorded by a Jazz musician who collaborated with Rajasthani musicians at the festival last year.
However, the challenge is the absence of a marketing mechanism. "There are digital platforms like Gaana, Saavn, Wynk and others, whoare aggregators. That works only if we keep producing and bringing out music," he says. Divya says he is still comprehending the marketing model nonetheless the efforts are on.
(Don't Miss) A charity fashion show by Rohit Bal & a polo cup for the royals: Princess Diya Kumari's grand plans for Jaipur's 289th anniversary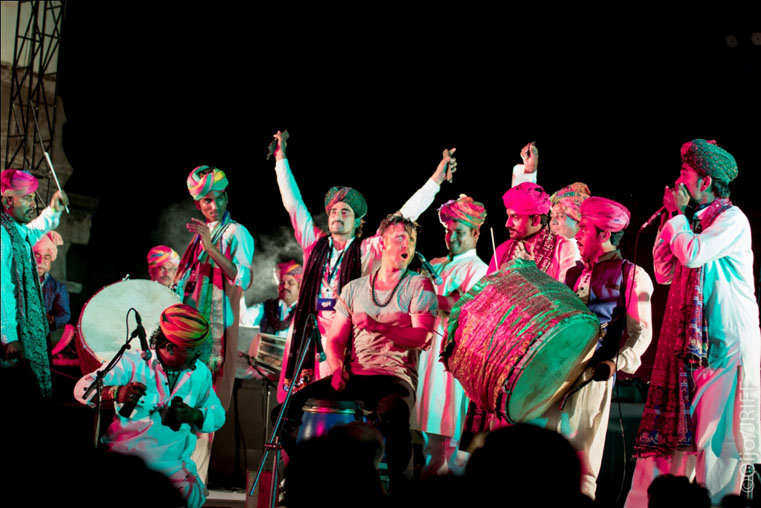 JOURNEY OF A DECADE
The birth of Jodhpur RIFF, supported by Mehrangarh Museum Trust, itself is an interesting story. It was originated from a festival called Jaipur Heritage International Festival, founded by John and Faith Singh's Jaipur Virasat Foundation. In 2007, the JHIF grew two new festivals: Jaipur Literature Festival and Jodhpur RIFF. Divya, who was already an artistic director with the Foundation, continued his association with the music fest as its director. In the last few years, JVF is no longer actively participating in the fest but the festival continues to grow."The platform is a seeding by many stakeholders who have nurtured it over the years. Whether it is JVF or Maharaja Gaj Singh II of Jodhpur, everyone wanted to promote folk music," he says.
MAN WITH MANY HATS
It would be inappropriate to describe Divya Bhatia as just the director of Jodhpur RIFF. He is a man who dons many hats. For instance,he happens to be the artistic director of theatre for Aadyam (drawing applause for presenting fabulous theatrical productions), he is also strategy advisor and creative producer at the G5A, Mumbai, which is an unusual foundation that is also running a multi-arts café-theatre space with extensive community engagement. He conducts personnel development workshops for corporate houses besides having been core faculty at ArtThink South Asia (ATSA), an Arts Management Fellowship Program hosted by the Goethe Institut and British Council in Delhi. "I am able to do many tasks because I work with dedicated teams who are executing these projects really well. An individual cannot accomplish big goals if he is not backed by a team which also believes in the vision," says Divya, who's also an occasional actor.
(Check out more on Jodhpur RIFF 2017 here!)
Let's Connect! Find exclusive content on your favourite celebrities on below social media links:
YouTube: https://www.youtube.com/c/BornOfWeb
Facebook: https://www.facebook.com/bornofwebIndia/
Instagram: https://www.instagram.com/born_of_web/
Twitter: https://twitter.com/BornOfWeb
Google Plus: https://plus.google.com/u/1/+BornOfWeb
Pinterest: https://in.pinterest.com/bornofweb/
Linkedin: https://www.linkedin.com/in/bornofweb/
Comments
comments