Rampuri delicacies are often catching fancy of Delhi folks these days! K3, JW Marriott at Aerocity (Delhi), gives you yet another excuse to savour the courtly cuisine  
Teaming up with 3rd generation cooks from the royal kitchens of Nawabs of Rampur, chefs at K3, JW Marriott, Aerocity, have specially curated a menu of mouth-watering traditional Rampur delicacies. The 11-day celebration lends a glimpse into some of the age-old traditions and tantalising secrets of the royal cuisine and into the labour of love that is the dedication and life work of the royal cooks from the kitchens of the Nawabs.
Characterised by the use of dry spices and the use of khada masala, which give the dishes its unique flavour, Rampuri cooks also make liberal use of ingredients like lotus stem, pineapple khus roots, jackfruit and figs in their dishes.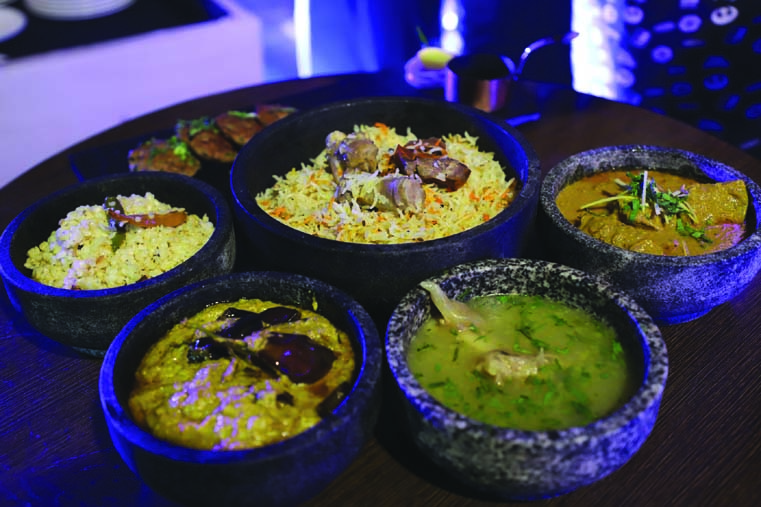 Not nearly as rich as traditional Mughlai food and not as subtle as Awadhi cusine, the 'royal cuisine' has distinguished itself through dishes such as Mirch ka Halwa, Murg Sondha and Tar Qorma, all of which boast of flavours and fragrances unlike what one has experienced before.
The Chefs at K3 and the royal cooks from the land of the Nawabs are dishing out these luxurious dishes for both lunch and dinner during the elaborate festival. Melt in the mouth kebabs, replete with flavour to start of the meal will flow into traditional dishes of chicken and mutton stew, Sabz Navrattan and Saans-e-Dum Pulao (Chicken).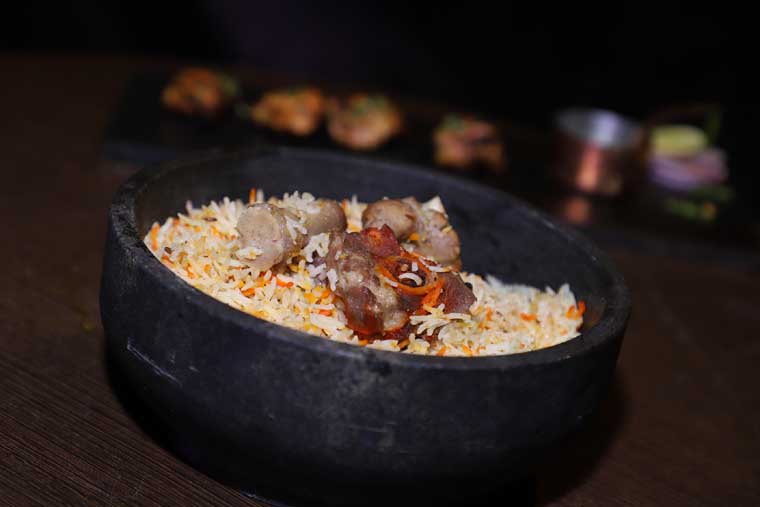 Desserts will be marked by the traditional, sweet Gulatthi made of ingredients like khoya and milk, a dish akin to kheer yet inviting its patron to revel in the taste mouthful after mouthful.  The magic of Rampuri cuisine lies in the minutest detailing and the innovation of flavours it brings to the table.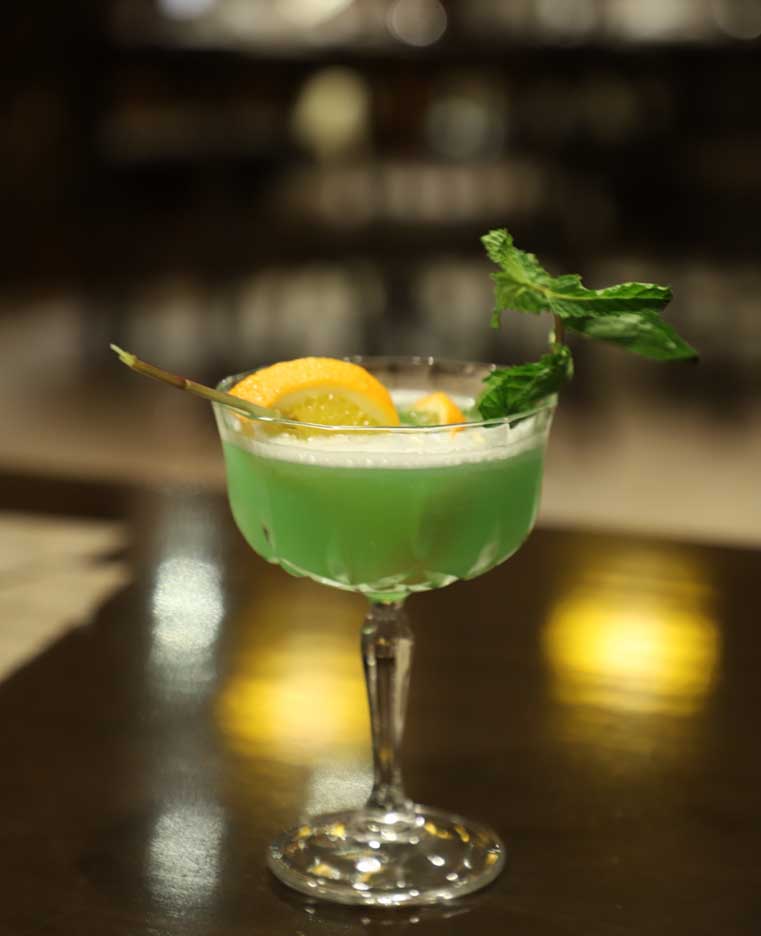 Reviving the legacy of the Rampuri cusine and ensuring that Delhi-NCR gets a taste of a different kind of culture, K3 – New Delhi's Food Theatre at JW Marriott New Delhi Aerocity has successfully bought to its doorstep, the food critic, the connoisseur and the common man.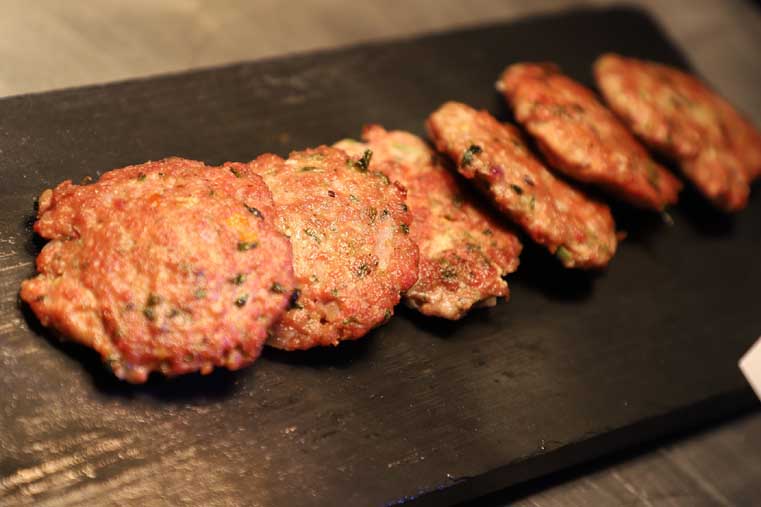 In case you are wondering what the whole menu looks like, here it is!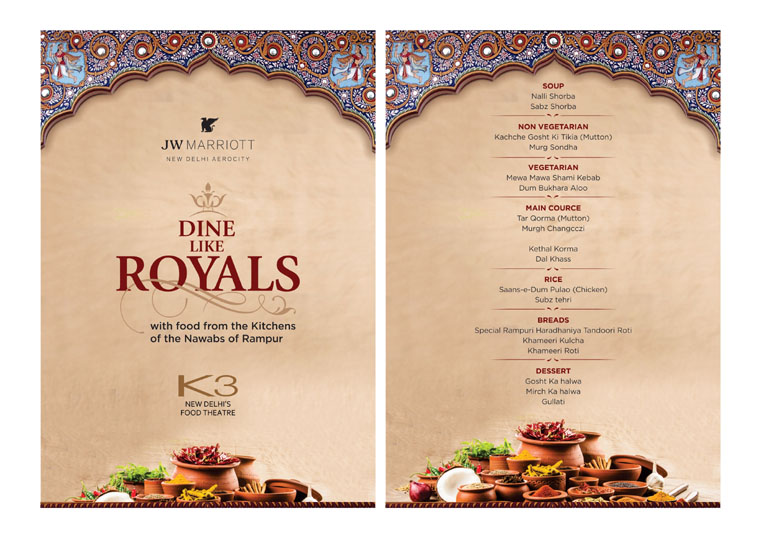 Fact File
Address:  Asset Area 4, Hospitality District, Delhi Aerocity, New Delhi, Delhi 110037

Phone: +91 11 4521 2115
Date: 15th March-26th March 2018

Hours: Lunch: 1230 hours- 1500 hours
Dinner: 1900 hours -2300 Hours

Menu: – Royal Rampur Cuisine

 

Promoted By: – JW Marriott New Delhi Aerocity

 

Pricing: Lunch: (INR 2550++)

Dinner (INR 3350++)
 If you liked this story, you might also like to read:
(Exclusive) Masterchef Pankaj Bhadouria reveals 33 secrets of her life!
Jodhpur RIFF has mainstreamed the folk community: Divya Bhatia
http://bornofweb.com/would-love-to-retell-story-of-radha-from-indian-mythology-namita-gokhale-jlf-co-founder-author/
Shovana Narayan: My life is influenced by lessons of Gita
Let's Connect! Find exclusive content on your favourite celebrities on our social media links:
YouTube: https://www.youtube.com/c/BornOfWeb
Facebook: https://www.facebook.com/bornofwebIndia/
Instagram: https://www.instagram.com/born_of_web/
Twitter: https://twitter.com/BornOfWeb
Google Plus: https://plus.google.com/u/1/+BornOfWeb
Pinterest: https://in.pinterest.com/bornofweb/
Linkedin: https://www.linkedin.com/in/bornofweb/
Comments
comments