The pop art by British-Indian pop artist Ketna Patel is attracting many eyeballs at the ongoing India Art Fair, Delhi. An enquiry into the theme of 'Identity', her art blends with activism, to produce a body of work on 'Artivism'. Showcasing her unusual collection at the India Art Fair 2017, the combination of an eccentric colour palette and a profound symbolism became a major attraction for art collectors.
Don't miss- (Exclusive) 'Don't want my works in this bazaar': Jatin Das at India Art Fair
In conversation with Born of Web, she talks about the constant state of flux that surrounds one's identity in a globalised world order. She picks on the impact of advertising and a certain conditioning that encompasses the contemporary scenario. Her idea is to magnify the invisible stories, exaggerate and bring them to the surface. Flouting the set demarcations of time and reality, her work fuses the past, present and future into one another, incorporating an element of fantasy. While walking through her gallery, we came across a painting titled India I was here set in a light box, borrowed from the language of advertising. Impregnated with symbolism, metaphors and analogies, the idea is to capture moments and freeze them in a single frame.
"Being dumbed-down by Bollywood", she believes about contemporary pop art that is much more than bright colours and shenanigans. She seeks to explore pop art as a powerful medium to address contemporary issues, with a mythological edge.
Catch her in an exclusive conversation with Born of Web's Karan Bhardwaj below:
https://www.youtube.com/watch?v=5ZT8Ll_wTgM
Take a look at Ketna Patel's pop art displayed at India Art Fair 2017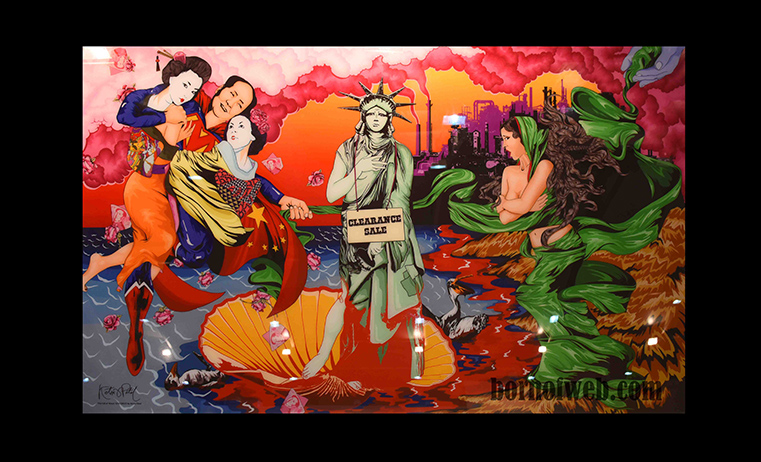 Let's Connect!
Facebook: https://www.facebook.com/bornofwebIndia/
Instagram: https://instagram.com/born_of_web/
Twitter: https://twitter.com/BornOfWeb
Google Plus: https://plus.google.com/u/1/+KaranBhardwajBornofWeb
Pinterest: https://www.pinterest.com/bornofweb/
Comments
comments