Demonstrating a perfect blend of luxe designs and tech, 

Miele lounge at Gurugram is nothing short of a grand kitchen from a Hollywood blockbuster. By Karan Bhardwaj

Giant refrigerators preserving fresh stocks of fruits and vegetables, super deluxe coffee machines ready to brew flavoursome beans, wine conditioners flashing reds and whites behind transparent glasses and chefs grilling sumptuous dishes over barbecue and tapenyaki — Miele's lounge in Gurugram is nothing short of a grand kitchen from a Hollywood blockbuster. It's an incredible marriage of design and aesthetics. If luxury has got a breeding space, it is this.
Miele has been a market leader for over 100 years in domestic appliances. Their products are of supreme quality, possessing patents for many inventions. When we visited the lounge, Rana Pratap Singh, MD (India) welcomed us over a treat. From Miele's high points to business analysis, we discussed almost everything concerning domestic market. "Modular kitchen is catching up big time. People in India are shelling out money on their kitchens, which are a part of your lifestyle. People understand cooking is an art that needs atmosphere conducive to take your experience to a different level. Our products are highly recommended by designers and architects in this country," said Singh.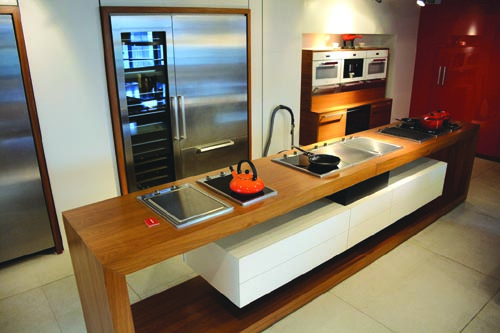 No wonder who pets luxury are falling for Miele's products. Their products are sustainable, easy to use and being endorsed by some of the biggest influencers. Apple's founder Steve Jobs, who's known to be particular about brands and designs, mentioned Miele's washing machines in his autobiography. "I got more thrill out of them than I have out of any piece of high tech in years," Jobs had said referring to his possessions ~ Miele's washing maching and dryer.
MASTER COOL
At the lounge, you get a hang of each product the company excels in. They have primarily stocked laundry products, cooling products and cooking appliances. The left space, as you enter, displays big refrigerators with attached freezers. "We call them MasterCool range," introduced Singh. Most refrigerators have got separate doors for each section and allow you to regulate temperatures, even of shelves. Would you believe their huge refrigerator with in-built freezer consumes 178 power units per year while other cooling products in market would take almost double of this? These refrigerators are also made keeping extreme Indian weather conditions in mind.
Then, there are wine conditioners to stock liquor. As people are learning more about wines, they are paying attention to their storage conditions. With individually controlled temperature zones for different types of wine, your reds and whites are guaranteed professional treatment. "We know a wine can be damaged in casual atmosphere if there's direct touch with sunlight or constant vibration. These conditioners take care of even odour and moisture. There's UV protected glass to control light," said Singh.
COFFEE TREAT
Kitchen is generally designed taking appliances in account. People do discuss how they want to put their appliances because they want to show guests their prized possessions. Miele has got a comparable range of built-in kitchen appliances, with consistency in design lines and colour options, to suit the most diverse of interior designs and kitchen furniture fronts.
While sipping cappuccino, our conversation moves to coffee machines. Be it espresso, cappuccino or latte macchiato, some 16 different types of coffee flavours can be made from these machines. They are easy to use, even symbols are provided on machines. There are many exclusive features that add unique difference to the products. For instance, there's a cup sensor that recognises the rim of the cup and alters the position of the central spout accordingly. There's an automatic rinsing of milk lines with water from the water container. They have got patented door system with wide-opening hinged front giving you convenient access to bean container, water container, ground container and drip tray.
Next in the queue are warming drawers, used to keep crockery and meals. Bigger warmers are of more use as they serve as mini version of micro waves. "In India, if you are a family of four, there are chances meal is served four times. So these warmers keep food warm allowing you to control temperatures and duration," informed Singh.
BARBECUE OR TEPPANYAKI
We were highly impressed by Miele's steam ovens, which are a perfect compliment in conjunction with an oven and a cooktop. As the cooking durations for steaming and boiling are identical, you do not have to change your cooking methods. You can make starters, soups, fish, meat, vegetables, side-dishes or puddings individually or as a complete meal in one cooking process. Steam inlet ports ensure fast generation of steam and distribution, short heat-up times and uniform cooking results.
There are many combis available for any type of kitchen, be it island or against the wall. They have gas hobs, induction hobs, combi sets of barbecue, teppanyaki, induction wok, fat fryers, salamander grill, depending on the requirement and space in the kitchen. The combisets look perfect, have ergonomically arranged control panel for simplified operation.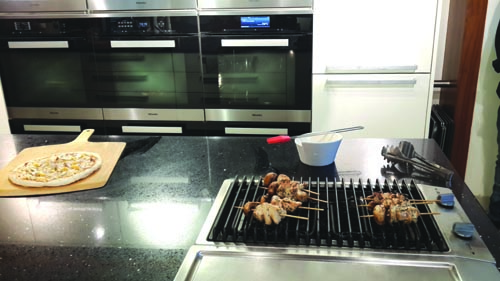 Then, there are freestanding or integrated dishwashers. Appliance fronts and fascias are designed to take front panels to match kitchen furniture. The company has patented its 3D cutlery tray. It can be adjusted in three directions and adapts perfectly to various load arrangements. This allows awkward items such as whisks and soup ladles to be accommodated and gently washed.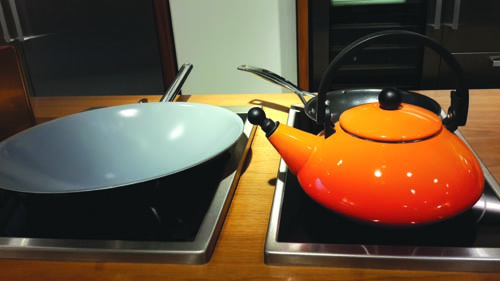 Coming to the laundry products, they are masters. Miele's washing machines and dryers are considered among the best in the world. "Miele's washing machines were already in abundance in India even before the company started its operations here. Europeans importing clothes from India would want them to be tested on Miele machines at particular RPM. So exporters in India would conduct shrink or colour tests on our machines. A few companies also do detergent test on our machines only. We came to know about this very late when customers called us for maintenance enquiries," said Singh.
CHEF TALK
Chef pampered our team with lips-smacking chicken. We started with grilled chicken skews served along roasted potatoes, dipped in cocktail sauce. Chicken was done on barbecue. Their barbecue has two zones so you can accommodate a lot of ingredients on the top.
Then came Ttin crust pizza which made in single oven. "The single oven has got a special feature for thin crust pizza called intensive bake, which helps in crisping the bottom. And there's a fan which rotates and helps in doing the toppings on the cheese," said the chef.
In the main course, he served us pan-seared cottage cheese accompanied with capsicum and leek pilaf. The pan-seared grilled chicken was one of the best we tasted in recent times. "We used six appliances to cook food. If one doesn't know about the temperature of dishes, one can navigate and select through automatic programmes. You don't have to worry about temperature and time. Just put the raw dish and it will be done. I have been using these appliances for past six years. If compare food made from these ovens to other commercial oven I used at big hotels, I would say the result is almost same. In fact, unlike these, the commercial ovens have to be monitored," the chef told us.
Book your slot for an exclusive visit. You can dial 0124-4006386. Timings: 11.30 am to 7.30 pm. closed. Here's a 360 degrees virtual tour of the Miele Lounge! 
Sponsored by Miele
Join us on Instagram, Twitter and Facebook!
Comments
comments