Good performances complemented with laughable situations make Shubh Mangal Saavdhan a good watch. By Shomini Sen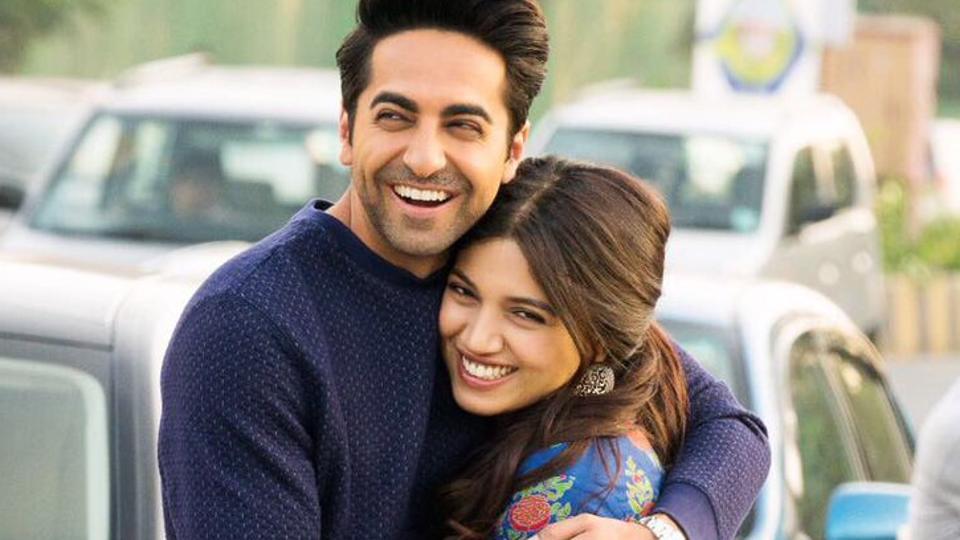 Gone are the days when Bollywood made films for the typical single screen front row crowd. A new crop of directors now narrate stories of the middle class on the big screen. Their stories are too familiar, they are set in known environment and they evoke known emotions. A week after Ashiwny Iyer Tiwari's romantic comedy Bareily Ki Barfi, director Rs Prasanna gives us Shubh Mangal Saavdhan– a film about a perfectly normal couple with a very common problem that most people do not like to address.
Mudit (Ayushmann Khurrana) and Sugandha aka Sugu (Bhumi Pednekar) meet in the bustling lanes of Delhi's Nehru Place in between lunch hours and tea breaks. An accident and an online proposal later, their families meet and fix up their marriage. While Mudit is conservative with his approach, it is Sugandha who drives their relationship. A modern, working woman, Sugandha is rather clear of what she wants from her man and the relationship. Weeks before the wedding, on a night when the parents are away, Mudit and Sugandha get physically intimate but are unable to have sex as Mudit faces performance pressure.
As days go by, Mudit shuts himself to Sugandha and is almost on the verge of calling off the wedding because he can't get it up yet it is Sugandha who takes charge and convinces him to get the baraat to her house. But would that solve the issue in hand?
When a story deals with erectile dysfunction, humour and puns are perhaps the best way to present it. And Rs Prasanna does exactly that. The humour is in plenty and most of the scenes as well as the dialogues induce laughter in abundance. From Mudit and Sugandha's attempts at getting it on to Sugandha's awkward conversations about sex with her concerned yet modern mother (the versatile Seema Pahwa)- there are scenes which will make you laugh at the situation at hand.
A remake of Tamil film Kalyana Samayal Sadham, the film captures the Delhi middle class quite accurately.  No designer lehengas or gaudy wedding mandaps here- Shubh Mangal Saavdhan keeps the premise very real and relatable throughout.  It sticks to middle class DDA localities and unkempt parks of Delhi making Mudit and Sugu's love story real.
The only problem with the film is that much like the couple's sex life, the story builds up with great potential but falls flat near the climax. Too many things are thrown in, which somewhat dilutes the main issue at hand. There is also an unnecessary cameo by Jimmy Sheirgill which makes no sense to the story line.
Despite the flaws, the film should be lauded for two things. That it addresses an issue that a lot of people don't want to acknowledge at all in reality and it highlights how middle class families in urban areas nowadays raise their daughters. Sugandha and her family are progressive and liberal – which is a stark contrast from how heroines are usually projected in Hindi cinema. Sugandha represents modern Indian women, who have a job and know what they want from their relationship and often call the shots.
Lead pair Ayushmann Khurrana and Bhumi Pednekar both deliver solid performances and underplay their characters. The actors shared an amazing chemistry in Dum Laga Ke Haisha and almost replicate that here with absolute ease. This is Khurrana's second consecutive Friday release this month. Last week he played a street smart closet writer from Lucknow in Bareilly Ki Barfi and this week he slips into a rather under confident Mudit with absolute ease. Khurrana truly represents the common North Indian man in cinema. Pednekar, who made a remarkable debut two years back in Dum Laga Ke Haisha once again, proves that she is extraordinary in playing the ordinary girl in films.
Should you be watching Shubh Mangal Saavdhan? Yes, for sure, because unlike Mudit's 'gents problem' the film soars high with genuine humour.
Do you know we put out exclusive content on our social media handles featuring your favourite celebrities? Check out below links & connect with us!
YouTube: https://www.youtube.com/c/BornOfWeb
Facebook: https://www.facebook.com/bornofwebIndia/
Instagram: https://www.instagram.com/born_of_web/
Twitter: https://twitter.com/BornOfWeb
Google Plus: https://plus.google.com/u/1/+BornOfWeb
Pinterest: https://in.pinterest.com/bornofweb/
Linkedin: https://www.linkedin.com/in/bornofweb/
Comments
comments