The Deadman took off his gloves, hat and trench coat after losing his final match at Wrestlemania 33
Finally the moment unfolded which we all saw coming. WWE wrestler Mark William Calaway, better known as The Undertaker, who entertained us in the ring for more than 25 years, took off his gloves for the final time at Wrestlemania 33. The Undertaker has just retired after got his final beating from Roman Reigns.
The Phenom's fans already anticipated this as the wrestler has exploited his best and gave maximum return to the wrestling business. Unlike many other popular WWE faces, The Undertaker has been consistently loyal to the management and remained with the business for more than 25 years.
Those WWE fans who have grown up in 90s and even post 2000s have seen The Undertaker taking down some of the biggest wrestlers in the scariest way possible. He is also known as the master of gimmicks as we have seen him dying and coming back to life several times. As per scripts, he is often seen digging holes and burying champions under soil. However, none of this will be seen in WWE now.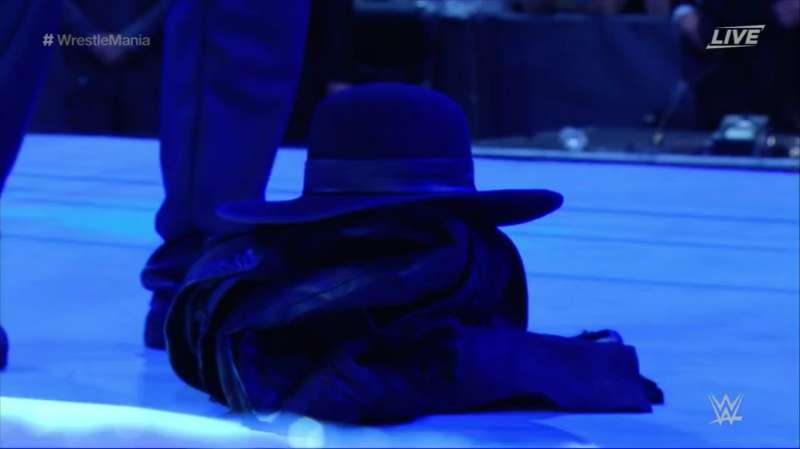 Even though the WWE is scripted and wrestlers play set characters, it's a difficult terrain for any athlete to be in the business for some 27 years. The Undertaker's body has been badly damaged as almost all his bones and ribs have been operated upon. However, it was his passion, dedication and resilience that kept him going for this long.
According to reports, the phenom had one hip surgery last year which restrained his moves inside the ring. Other reports suggest that post Wrestlemania match, Calaway will go for complete hip replacement surgery. Born of Web would like to salute The Undertaker for his illustrious career and wish him luck for his future endeavours!
https://www.youtube.com/watch?v=Wjqna2NJ4qE
Here we found some interesting tweets post The Undertaker's retirement match!
For being the greatest part of my childhood and being the greatest to ever do it, PERIOD. No one will ever come close. #ThankYouTaker pic.twitter.com/yviPZMADDR

— chadd 2 sadd (@Raallins) April 3, 2017
Legends never die#Wrestlemania #ThankYouTaker pic.twitter.com/1rl1rCNCWQ

— DEAD KIИG (@DieInPain) April 3, 2017
More than 30 minutes after the end of #WrestleMania 33, Undertaker's iconic trench coat and hat remain in the ring.
Photo: Steve Argintaru pic.twitter.com/OEHkYQ2QTp

— Steve Argintaru (@SteveTSN) April 3, 2017
Let's Connect!
Facebook: https://www.facebook.com/bornofwebIndia/
Instagram: https://instagram.com/born_of_web/
Twitter: https://twitter.com/BornOfWeb
Google Plus: https://plus.google.com/u/1/+BornofWeb
Pinterest: https://www.pinterest.com/bornofweb/
Comments
comments