We enjoyed ourselves at the Molecule Air Bar would be a massive understatement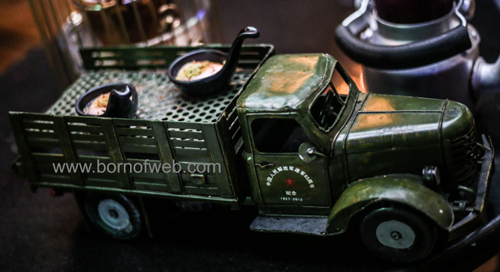 Text: Karan Bhardwaj  
Images: Raunak Shrivastava   
Going by the buzz, we were already looking forward to visit the Molecular Air Bar. The fact that we missed the launch and the review opportunity made us even more excited to land here when we were informed about the revamped menu for cocktails.
Arguments at the registration desk by people waiting in groups vouch for the bar's popularity. The staff had to make special arrangement for us. What followed next was not just a gourmet journey but a wholesome experience of food, fun and nightlife. "This place turns into a nightclub in evening," says co-owner Manish Sharma pointing out to youngsters jollying at the beer bar. All they want is their jar of beer from the micro brewery, the most sought-after spot at the Air Bar. The terrace is jam-packed too.
Damn… It's almost a club!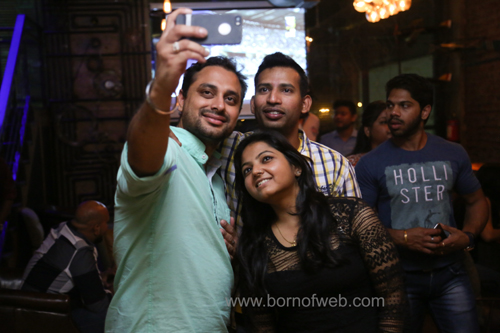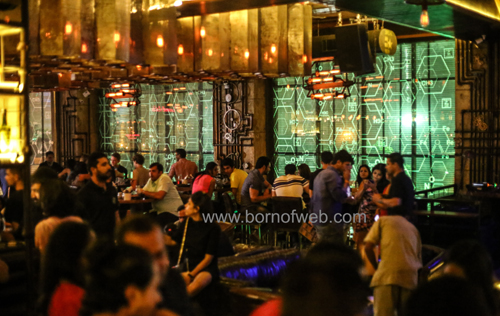 There's no dance floor as such but the foot-tapping music is just irresistible. You have got enough space to shake your booty. Have your me-time or get lost in trance music with your cages of cocktails (explained later). Simply cool. It's a 10, 000 sq ft area (yet has somehow fallen short for people.) People around us broke into impromptu jig multiple times!
It's so chilled out, pocket-friendly…!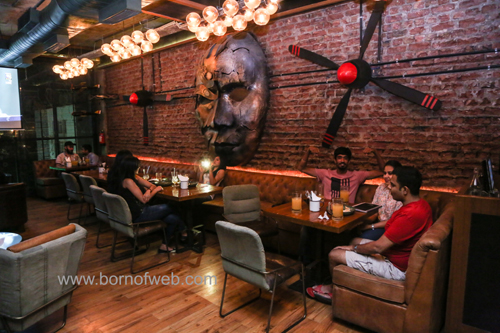 It is perhaps the most laid-back place we have checked out so far. We found every guest so relaxed here, lost in their own paradise. And guess what? It is relatively cheaper than other joints offering molecular gastronomy. "Pocket-friendly food, innovation and presentation make us stand out in the market," says Sharma.
Food is quirky…!
Take Molecular Puckha Shots: It's their version of gol gappas and come with five different flavoured waters — mint, pineapple, orange, cola and beetroot — in test tubes! The potato stuffing is served in a mini pressure cooker.  We loved Dragon Smoked Popcorn. These are treated with liquid nitrogen which leave them cold and smoky. Amuse-Bouche is complimentary, it's a shot of roohafza and lassi.
Biryani Arancini is quite good. They are balls with biryani inside, instead of risotto rice. The dish is served on the bed of Baigan ka salan. A complete affair! For Air Bread, they inject air into breads with syringes. Then they put quattro formaggi cheese (four types of cheeses — mozzarella, Gorgonzola, Parmesan, and Robiola). On top of that, there's a piece of chicken tikka to give you Indian flavour.
Don't Miss Molecular Chaat: It is a visual delight to catch its making. We requested the chef to prepare this grand spectacle right in front, which also intrigued a lot of other guests. It is cold cooked on anti-griddle. They fry yogurt, bhallas in liquid nitrogen. It consists of all regular fruits of the chaat. Crystals of yohurt give you crunchy feeling while chaat masala gel, again done with liquid nitrogen, leave the spicy taste.
Drinks galore…!
The experiment of Kala Khatta LIIT has come out very well and it is the best seller here. Khula Pinjara comes in a bird's cage with a glass and a balti inside.  Three people can easily share it. You can also hold your pinjara and roam around. Soachalaya an apple cider served in a bath tub. Again, your group can share it.
HICCUPS
The place is generally over crowded, even reservations fail at times. The staff is too sweet to ask people to vacate though the tables are occupied for hours. What they really need to do is buck up their service. Hungry souls don't like to wait for long!
Join us on Instagram, Twitter and Facebook!
Comments
comments