Chef gets an impressive set of actors playing their roles to perfection but it slackens due to a long, boring narrative and lazy screenplay. By Shomini Sen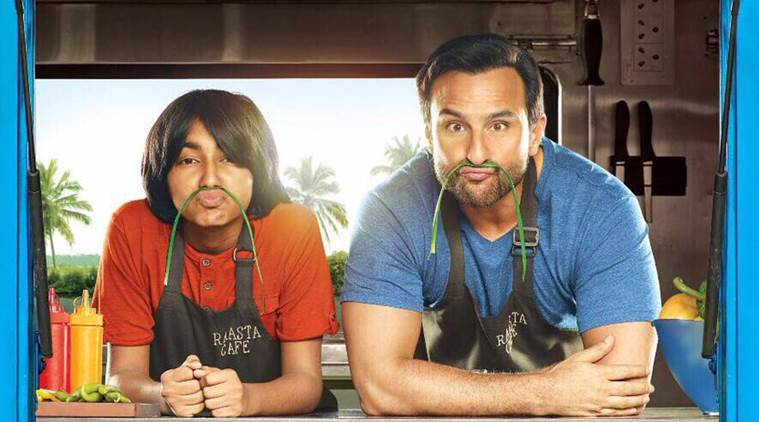 The trailer of Saif Ali Khan's Chef received mix response when it was first aired. While some, like me, were upbeat about the Indian version of John Favreau's delightful Chef– and then there were others who couldn't fathom why was there was a need for a remake and that Khan's version would not be a patch on the original one. Unfortunately, the latter group was right.
Favreau's Chef was a light-hearted, predictable story of a chef rediscovering his love for cooking after he is fired from his job at an upmarket restaurant. Now the film was a predictable affair to begin with, but it managed to infuse cleverly the role of social media into the narrative. The Hindi remake, director by Raja Krishna Menon, gives an Indian flavour to the original plot and in the process churns out a rather bland story.
A bulky Saif Ali Khan plays a Roshan Kalra, Michelin star chef in America, who is fired from his job after he punches a diner in a fit of rage. On the behest of his friends, Roshan travels back home, to Kochi, to spend some quality time with his son Armaan (Svar Kamble) and his ex wife Radha (Padmapriya Janakiraman). Roshan and Radha's relationship is what modern relationships are made of, where post divorce they co-parent their child and even stay together and are aware of their boundaries.
Not sure how to start over, Roshan reluctantly starts a food truck business, on the behest of Radha and her lover Bijju (the incredibly suave Milind Soman). While initially he is unsure on how to go about it, he does find his footing soon enough with a bit of help from a trusted aide (Chandan Roy Sanyal) and his son. And thus begins his journey of rediscovering his roots and his passion for reinventing old dishes. Roshan also embarks on a journey from Kochi to Delhi and is able to rekindle his relationship with his son.
(Don't Miss) Getting married early is the only regret in life: Suchitra Krishnamoorthi
(Don't Miss) 21 Questions with television actress Tinaa Dattaa
Chef gets an impressive set of actors playing their roles to perfection. It is refreshing to see a mainstream actor like Saif Ali Khan playing his age on screen and admitting a few times about being middle aged. There is southern actress Padmapriya who portrays a strong, confident, independent Radha with absolute ease. And the supporting cast of Chandan Roy Sanyal, Milind Soman and Ramgopal Bajaj are equally good in their respective parts. Yet, the film slackens primarily because of a long, boring narrative and lazy screenplay. So many moments in the film appear unnecessary. So many dialogues seem misplaced – making Chef a rather bland dish. In the original film, the role of social media in spreading the word about the Chef's new venture was a prominent part. But in the Hindi version, social media is mentioned only sporadically.
The film does have a few special moments- especially in the second half where Roshan and Armaan share some delightful father-son camaraderie. Khan and the young actor Svar Kamble make an amiable pair and you enjoy their silly banter. Khan, who has played the charmer in multiple films over the years, plays a grumpy chef in the first half – a stark contrast from his flamboyant image. He also picks up certain typical techniques of pro chefs and chops the onions with absolute ease. And those scenes where he cooks up dishes or takes his son on a food trail in Amritsar are delightful. But the moments in the film are few and far in between- the rest is literally a drag.
Music by Raghu Dixit is folksy and blends well amid Kerela's picturesque greenery. But the problem remains in the execution of the story, really. A film about a chef should have ideally had the main protagonist dishing up interesting stuff in the kitchen. Instead, Roshan's food struck serves a Indian version of Pizza called Rotzaa and Banana Chips. There are only two other dishes that Roshan makes in the two hour run time of the film- a tomato chutney and a pasta.  The rest of the time he is just busy rediscovering himself or cracking poor dad jokes.
When you officially recreate a popular Hollywood film, comparisons are inevitable, and which is why Chef appears as a half-hearted attempt. It could have been a delectable affair, but instead is flavourless with only a few sparks in between.
Let's Connect! Find exclusive content on your favourite celebrities on below social media links:
YouTube: https://www.youtube.com/c/BornOfWeb
Facebook: https://www.facebook.com/bornofwebIndia/
Instagram: https://www.instagram.com/born_of_web/
Twitter: https://twitter.com/BornOfWeb
Google Plus: https://plus.google.com/u/1/+BornOfWeb
Pinterest: https://in.pinterest.com/bornofweb/
Linkedin: https://www.linkedin.com/in/bornofweb/
Comments
comments