Devdutt Patnaik, Durjoy Datta, Barkha Dutt, Jatin Das amongst many other prolific figures will be attending the second edition of WIC 
Dehradun Community Literature Festival 2017 
The buzz around the second edition of WIC Dehradun Community Literature Festival 2017 is getting louder. The curtain raiser has been scheduled on 25th March at World Integrity Centre India, Dehradun where Ustad Amjad Ali Khan will be launching his book. This will set the tone for the literary gala that will be held during April 19-22 in Dehradun. Here, we are presenting some highlights of the curtain raiser: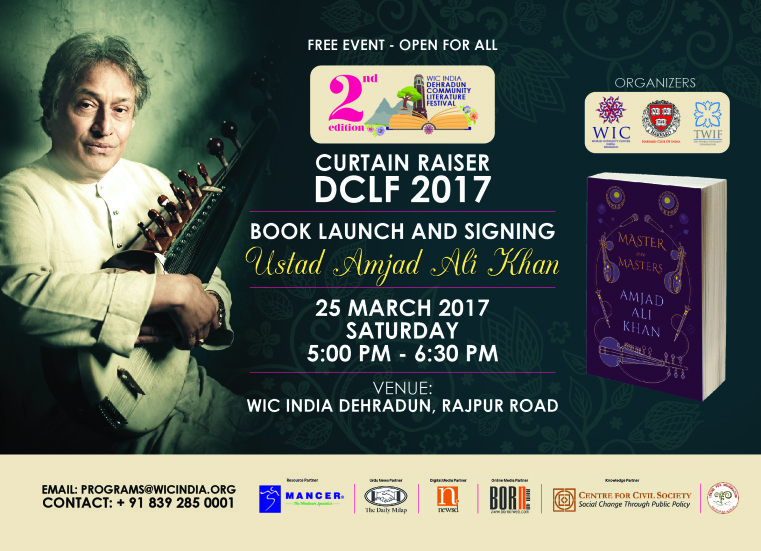 The Curtain Raiser for WIC Dehradun Community Literature Festival 2017 will take place in the illustrious presence of sarod virtuoso and composer, Ustad Amjad Ali Khan, who will launch his book Master on Masters. The curtain raiser will be open for all, from 5 pm to 6:30 pm on 25th March, at WIC India Dehradun, Rajpur Road. The event will be followed by an interactive session, with Amjad Ali Khan in conversation with Rishi Suri, revealing the journey of the book. Aficionados of music and literature will get a chance to get their copies of the book signed by Ustadji himself.
Don't miss: Shovana Narayan: My life is influenced by lessons of Gita
Sessions with eminent personalities in the fields of literature, art and politics include mythologist and author Devdutt Patnaik, writers Durjoy Datta, Gurcharan Das and Nayantara Sehgal, artist Jatin Das, children book writers Ranjit Lal and Santhini Govindam, journalists Rana Ayyub and Barkha Dutt, historian and writer Rakshanda Jalil, translator AND Haksar, his daughter and child rights' activist Nandita Haksar, Air Commodore Nitin Sathe, and many others. The festival culminates to give a promising experience to explorers and literary enthusiasts.
Don't miss: Official Media partner: BOW collaborates with WIC Dehradun Community Literature Festival
Cultural events are a definite charm of the literature festival in an unusual destination. Recitation and story-telling by the natives, in a session Lit-fest Hangout is scheduled from 7pm onwards. The festival extends itself to cultural interactions, giving an unsual and stimulating experience to its particiapants.
We are also expecting some big announcements that promise to add glamour quotient to the festival.
Further information on the schedule, speakers, and cultural events will release soon. Stay tuned for more with Bornofweb.com is the official media partner of the festival.
Let's Connect!
Facebook: https://www.facebook.com/bornofwebIndia/
Instagram: https://instagram.com/born_of_web/
Twitter: https://twitter.com/BornOfWeb
Google Plus: https://plus.google.com/u/1/+BornofWeb
Pinterest: https://www.pinterest.com/bornofweb/
Comments
comments