Lipstick Under My Burkha is a liberating experience for an otherwise suffocating society for women, says Shomini Sen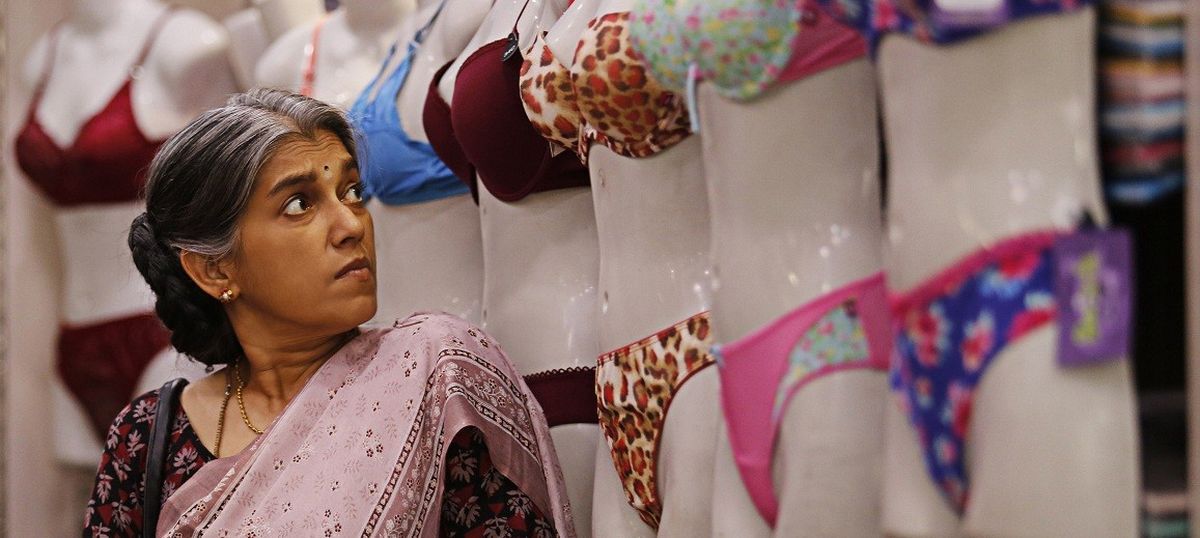 They say one finds heroes in the most unlikely of the places. They don't wear a cape, neither do they give powerful speeches but simply stand out for being spirited. Director Alankrita Shrivastava's film Lipstick Under My Burkha is about four such unassuming yet inspiring women. They do not save the world, neither do they wage a war against a system but they win hearts of the audience simply with their spunk.
Set in the by lanes of old Bhopal, the story is of four ordinary women. The kind who you would know and relate to for their problems are all too real, their dreams and aspirations are almost like ours. Fifty plus Usha (Ratna Pathak Shah) owns and runs an old haveli which houses several families inside it. Fondly known as Buaji, she is at the helm of affairs and a matriarch of sorts for the numerous tenants she has. A widow, she is the one who has solutions to life's problem. But despite being surrounded by people all the time, Usha is a lonely woman who craves for male companionship and secretly reads erotic novels hidden behind bigger books on gods and chants.
Her tenant Shireen (Konkona Sen Sharma) finds happiness in her day job as a saleswoman – a job that she excels at but hides from her chauvinist husband whose only interaction with her is at night on the bed where they mechanically have sex without using protection.
(DON'T MISS) Will Smriti Irani, now I&B Minister, address censorship in cinema?
Leela(Aahana Kumra) harbours dreams of eloping and starting her own business with her boyfriend – a local photographer who is unsure of his own feelings. Leela has a day job at the parlour and uses sex to manipulate the men in her life.
Leela's neighbour and friend Rubina (Plabita Borthakur) helps her father stitch and alter burkhas in the family run shop. She, in fact, lives a dual life – one that her parents wish her to follow – and the one of an aspiring singer who copies Miley Cyrus and sings Led Zeplin songs to impress her seniors in college.
All four come from lower middle class families where dreams and aspirations are almost considered a burden. All stick out in the crowd for their brazen, feisty nature.  They may have to lie, steal, cheat to fight societal norms and diktats, but they still allow themselves to fight the odds and dream big.
Of course, the dreams are considered lofty and their needs scandalous. A neighbourhood which respects Usha so much is quick to label her the moment they learn about her secret swimming lessons and her love for erotica. Despite Shireen's success at her job, her husband has the ability to dominate and scoff at her by saying 'biwi ho, shohor banne ki koshish mat karo' while forcing himself on her at night. An incompetent, non-committal photographer is quick to label his girl when she demands on having sex with him. The men in these women's lives sort of represent the society we live in, where the women are most often confined to their homes due to unnecessary rules. They may be doing everything right, yet the society will have to force them to follow set patterns.
The film works on two levels. First because of its story and second because of the four actors. While Sharma and Shah are known for their acting prowess, it is the newcomers who manage to shine. Plabita and Ahana – both known faces in the ad world – sparkle in their respective characters. They share screen space with seasoned actors and yet manage to hold their own throughout.
(DON'T MISS) Anshu Khanna's Blog on Chandni 'Copycat' Chowk: Design and the rehash boudoir
Lipstick Under My Burkha also works because it showcases the spirit of womanhood in its truest sense. No man comes to save these women in their time of doom. The women instead huddle together, read out erotic titles of various novels and share a smoke.
Alankrita Srivastava weaves a story cleverly where the women come from lower-middle class backgrounds. Their aspirations and their struggles are all too real and relatable. A daughter struggles to make her orthodox Muslim parents accept something as basic as ripped jeans. A wife struggles to make her husband know about her professional achievements.  Problems that many households face in India, where the women are expected to be subservient. And Lipstick perhaps gives hope to such women to speak out and think big.
The film also has an underlying clever humour that runs throughout the narrative. Nothing forced or slapstick but the scenes ensure you have a hearty laugh at the irony of things.
The censor board had banned the film earlier, terming it as 'lady-oriented'. But I am glad that it is actually 'lady-oriented'. Because it takes a woman to tell a story like Lipstick Under My Burkha. A man would never be able to get it this right.
Let's Connect!
Facebook: https://www.facebook.com/bornofwebIndia/
Instagram: https://instagram.com/born_of_web/
Twitter: https://twitter.com/BornOfWeb
Google Plus: https://plus.google.com/u/1/+BornofWeb
Pinterest: https://www.pinterest.com/bornofweb/
Comments
comments