---
Fourteen-year-old Kiara Nayantara Singh walked the ramp for Manav Gangwani's couture show that also featured her legendary model-mother Nayanika Chatterjee.
Karan Bhardwaj spoke to the mother-daughter duo
With an off-site venue, Bollywood showstopper, 70-ensemble collection and one of the longest fashion runways, designer Manav Gangwani's couture show had everything that kept fashionistas hooked. But backstage, there was one young model who became the cynosure of all eyes. Supermodels were busy sharing with her last-minute tips on how to make a perfect walk! But when she walked, she immediately ruled the moment, rightfully, as if she was destined to be the runway star. We are talking about Kiara Nayantara Singh, daughter of legendary supermodel Nayanika Chatterjee, who made her debut at the FDCI's India Couture Week 2017.
"It was a 400-metre-long runway, a distance I sprint over multiple times, every day," quips Kiara, who walked shoulder to shoulder with supermodels. Ask about her experience, the 14-year-old leggy lass has many thanks to offer. "It was one of the special moments of my life. I am grateful that I got to walk for a big designer like Manav Gangwani. Not everyone gets to do that. He made me feel so comfortable during the show. Since I have known most models as I have been accompanying my mother to various shoots, it was a hassle-free ride for me. Senior models like Alesia Raut, Krishna Somani, Sapna Kumar and others kept me calm and helped me concentrate," she says, adding that she has noted the feedback. "My skirt was slightly loose but I was guided well to carry it off throughout the show. There was a lot of light so I couldn't observe the audience even though they all were looking at me. But I was told I walked a little faster at some point. I will work on it," she says with determination.
(Don't Miss) Nayanika Chatterjee: Dark is not ugly
It is too early to predict future but Kiara says she would love to explore fashion. "I have two varied interests: Law and Fashion. Fashion comes naturally to me as I have grown up in that environment. But I am also a research-oriented person, so I see myself pursuing a law degree as well," she says.
Interestingly, Nayanika too walked the ramp for Gangwani's show but was rather more concerned about her daughter's debut walk. "Kiara is not a trained model. It was a sudden decision to rope her in. Though I wasn't okay about it, Manav was like 'What's your problem when I don't have any problem with her walking for the show?' On the day of the show, I was very tense. I had weird thoughts like 'what if she trips on the ramp, what if she doesn't walk properly.' I was literally panicking and kept giving her instructions. It was funny that other colleagues asked me to step aside and took over concluding brief," says Nayanika, who wants her daughter to focus on studies for now.
Rumour has it! Disha Patani's sneaked out of the wedding show, Sara Ali's 'No' to paparazzi & Sonam Kapoor's dreamlike walk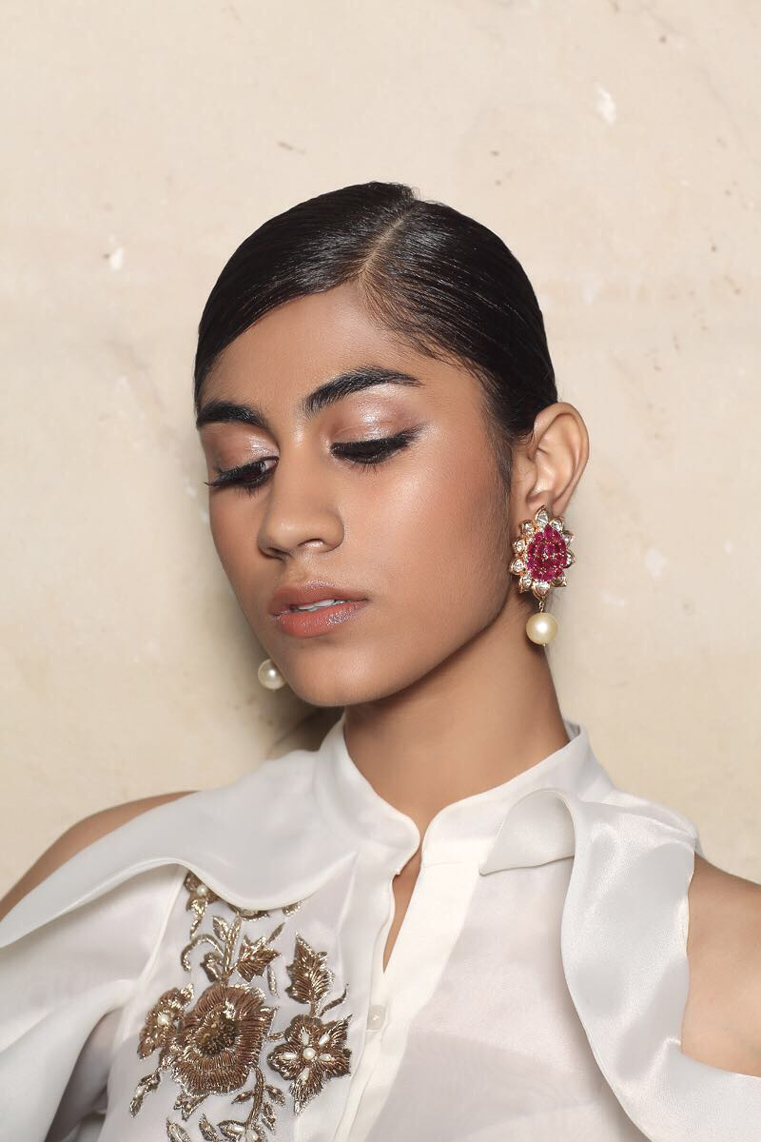 "I had to tell her to take off make-up in night. She was so excited about the whole experience. I think she is very young and impressionable right now. In the West, teenagers storm the modelling scene quite early. But in India, we have different style of upbringing. I am still protective of her. Though I am getting a lot of offers for her, I want her to concentrate on academics for now," says the mother.
Let's Connect!
Facebook: https://www.facebook.com/bornofwebIndia/
Instagram: https://instagram.com/born_of_web/
Twitter: https://twitter.com/BornOfWeb
Google Plus: https://plus.google.com/u/1/+BornofWeb
Pinterest: https://www.pinterest.com/bornofweb/
Comments
comments