The Spice Route's rich architecture and Chef Veena Arora's immaculately crafted 
Thai food laid down an 
ambrosial experience for foodies
As we reached Delhi's The Imperial Hotel at Janpath in a semi-drenched condition, thanks to incessant rain, we were ecstatically prepared for a Thai treat. We headed straight for The Spice Route where we were warmly attended by Chef De Cuisine Veena Arora with a radiant smile. Without much delay, fresh and chilled coconut water was brought to us to break the ice.
Chef Veena Arora is proficient with Thai cuisine, and this time she has presented a rather creative menu – 'The Noodle Symphony' to her guests. She experimented with different varieties of noodles, from rice noodles to vermicelli, to put forth distinctive and palatable dishes. The menu for the day was carefully designed with appetizing dishes to more wholesome ones towards the end.
Kieow Tieow Naam is a soup infused with flavours of cinnamon, chili flakes and enriched with flat broad rice noodles. It consists of dumplings made of sliced chicken (or mushrooms for vegetarians), beansprout, Chinese cabbage, crushed peanuts, and is served as a superb antipasto preparing our appetite for the luscious dishes to follow. Hot soup with a subtle flavour was perfect for the humid, rainy day.
Here's why Delhi's going mad over 'superfoods festival' at Cafe Delhi Heights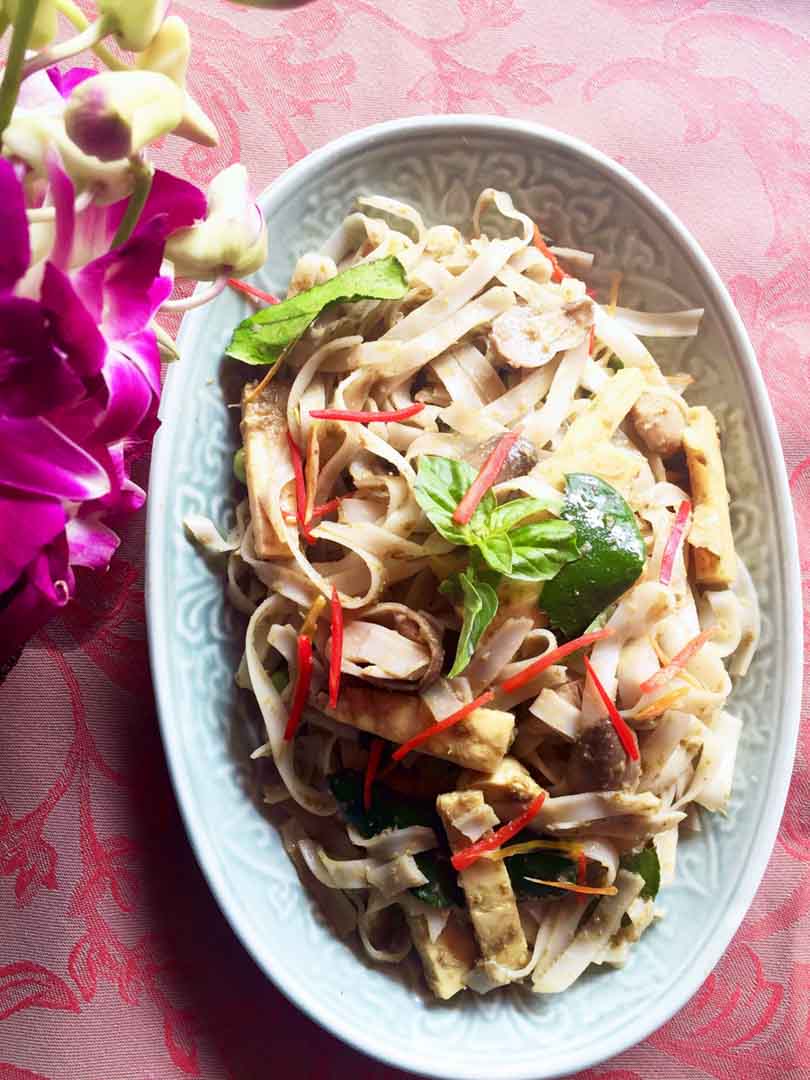 Up next was Kieow Tieow Kheow Waan, Thai rice noodle wok fried with scrumptious, traditional green curry paste, which is also the chef's favourite ingredient. It was served with bamboo shoot and white pumpkin and garnished with crispy basil.
The use of blanched rice and lentils to make noodles ensured a great nutritive value and because it was ow on starch, it was easier to digest. Chef Arora prepared a vegetarian alternative for every dish she prepared. Fish sauce, a basic ingredient in Thai cuisine was replaced with soy sauce while a combination of konjac and soya served as a vegan other for meat.
Utterly delicious stir fried cellophane noodles complementing the sour taste of perfectly cooked cherry tomatoes and scrambled eggs justified the 'chef special' category it was listed under. A light dish with a delectable flavour, it turned out to be a general favourite. Sen Krob, a wok fried crispy noodle dish cooked in soya sauce with carrot, baby spinach and bell peppers was the spiciest of all. It stimulated our taste buds, leaving us wanting for more.
This was followed by a cook-out session in which the chef prepared Mee Goreng which was a spicy wok fried egg noodle with mixed sea food, served in Malaysian style. With satiated appetites, we decided to tour The Spice Route before we went on to desserts. A monumental significance, the place has about nine sections with murals dangling all around. These aesthetically done motifs draw inspiration from the trade route of South and Southeast Asia.
Recreating traditional Thai cuisine has been a passion for Chef Veena Arora since 1996, when she joined The Imperial for the first time. Her passion to eat good food has helped her create the right balance while experimenting with food. 'You cannot love to cook if you do not love to eat,' she believed. The restaurant's extraordinary interiors and lusciously prepared Thai food culminated into an ambrosial experience, a great culinary retreat!
Let's Connect!
Facebook: https://www.facebook.com/bornofwebIndia/
Instagram: https://instagram.com/born_of_web/
Twitter: https://twitter.com/BornOfWeb
Google Plus: https://plus.google.com/u/1/+BornofWeb
Pinterest: https://www.pinterest.com/bornofweb/
Comments
comments