"He is muscular, popular and a charismatic sportsman. He has a dashing girlfriend too. But he is too scared of his reality, the fact that he is gay"
PRANAY PACHAURI on his character
Homosexuality is one less-travelled road in Bollywood. Thankfully, the young film-makers and actors seem to be accepting the challenge. And unlike the Karan Johars of the tinsel town, they want to handle their coming of age stories very sensibly. Rikhil Bahadur's Time Out, produced by Viacom 18 Motion Pictures, deals with homosexuality of a guy who is too afraid to come out of his closet. Carrying the complex character on his shoulders is 23-year-old Delhi boy Pranay Pachauri. He spoke to us about his offbeat debut!
READ ALSO: Dear assholes, we stand by Sonam Kapoor!
This is your debut film. Are you not afraid of getting stereotyped in the industry?
My parents were… For me, it's a golden opportunity to offer something different to the audience. I always aspired to be an actor, and I don't think it is fair to stereotype any artiste. I want to explore diverse characters. I do not have preconceived notions about anything. Cinema is a powerful medium and my job is to reflect the realities on the screen. Homosexuality, or duality, is real and we must embrace it. Feelings are a subjective issue and now time has come when we can openly talk about it.
Homosexuality has been ridiculed on screen by the mainstream film-makers. How does this movie stand out?
Usually, gay characters are given feminine touch and are mocked at. But my character in Time Out is very complex. He is a strong guy, sportsman and popular in the campus. He develops natural feelings for a guy. The movie is all about identifying your orientation and standing by it.
Must Read: Why does India need condom ads?
Did you draw any real life or cinematic references?
I have a lot of friends who are gay but they haven't confronted their families on it since they know they won't be accepted. I spoke to them to have their perspective. I drew inspiration from movies like Dallas Buyers Club and Brokeback Mountain.
You may have to face criticism from certain sections of society.
Homosexuality is natural. You cannot ignore it. I did the movie because I believed in the story. We want to change people's thinking.
Are you a gay?
No, I am not. I am straight.
Must Watch: Miley Cyrus gets a man see inside her shirt!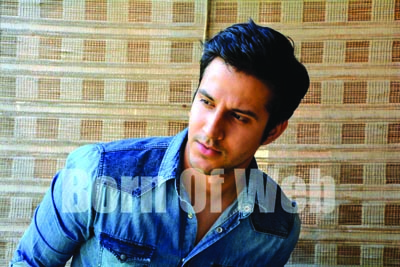 Was there any uncomfortable moment on the sets during intimate scenes?
The movie is not sleazy and we do not intend to sensationalise the issue. There are no lip-locks. These two guys get close because they are emotionally connected. There was a slight resistance in doing a particular scene where these two guys were supposed to get close. We did workshops for that scene. But surprisingly, that sequence was shot flawlessly and there was no embarrassment in doing that.
How did you get this project?
One of my friends, who's also in this movie, informed me about the auditions. She told me Rikhil was looking for an actor, who could also play basketball. I was auditioned. When I met Rikhil, he was fine with me but set one condition. He asked me to lose 13 kgs in a month. I took it as a challenge and accomplished it within a month. Rest, we learnt in the workshops.
FOLLOW: The coolest Instagram account!
Do you have filmy background or formal training in acting?
I come from Delhi and shifted to Mumbai last year. I finished my graduation from Delhi University's Shaheed Bhagat Singh college. My father wanted me to pursue Chartered Accountancy but I was passionate about acting. So I took this leap in faith and came to Mumbai. I do not have formal training in acting.
What else interests you apart from acting?
I love writing stories. One day, I wish to make movies based on those stories. Presently, I am writing a travel-based script.
Who do you look upto?
I am inspired by Shah Rukh Khan. He is an effortless energiser. I also love Robert De Niro.
Film-makers you want to work with?
I wish to work with Ayan Mukerji, Ashutosh Gowariker, Rakeysh Omprakash Mehra and Yash Raj Films.
Join us on Instagram, Twitter and Facebook!
Comments
comments