Toilet – Ek Prem Katha

Review: While

Akshay Kumar

&

Bhumi Pednekar

share good chemistry, the packaging could have been cleverer to make the social message look far more engaging and entertaining, says

Shomini Sen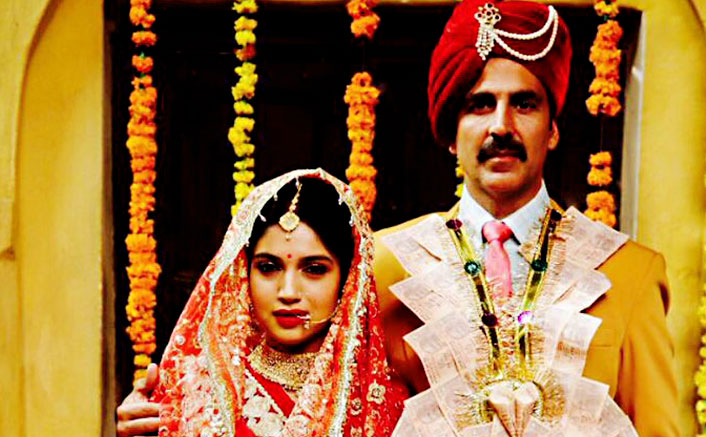 The problem of open defecation is something that Indian society has been fighting for a while now. Even before PM Modi launched his Swachh Bharat Abhiyan, efforts have been made to make people aware of the problem. In some parts of India, the state has been able to install public toilets while some areas in remote villages continue to suffer.
While film actors have in the past endorsed and appeared in TV ads promoting hygiene and the importance of using toilets, never has any film been made on the issue until now. Which is why Akshay Kumar, Bhumi Pednekar's Toilet Ek Prem Katha grabbed eyeballs right from its inception days.
A story of a liberal, educated Jaya (Bhumi Pednekar) and her relentless pursuer turned husband Keshav (Akshay Kumar), the film is set in UP where Facebook may have come to the villages but not toilets in most houses. The film opens with a group of women walking towards the field with lota in hand to relieve themselves in the wee hours of the morning. Minutes later, as they huddle and sit together to defecate, a man on a tractor beams up just to irritate them and drives past them with an eager smirk.  While most women are part of this 'lota party', Jaya Joshi and her family are different. Their house of course is equipped with toilets and Jaya has been brought up as a free thinking individual.
(Don't Miss) That's cute! Alia Bhatt blushes as adorable Ranveer Singh says 'I love You'!
So when she marries Keshav, a 12th pass cycle store owner, she is exposed to a very different world- a world where her father-in-law wants her to draw the ghungat when he is around but isn't okay to build her toilet in the house. A staunch Brahmin, he believes a toilet inside the house pollutes the sanctity of the place. While Keshav initially finds ways to fulfil Jaya's demand of a toilet- by sneaking inside a neighbour's house, and making daily visits to the railway station where a train stops daily for seven minutes, Jaya soon gives up and walks out of the marriage until a toilet is constructed inside the house.
You take time to come to terms with the fact that Akshay Kumar, who is pushing 50s, plays a 36-year-old desperate to get married to a 28-year-old Bhumi Pednekar. The superstar's effortless charm and fit body helps to ignore the glaring the age gap between the two actors. In fact, both Pednekar and Kumar put up a good performance and get into the skin of their respective characters. Their act of a small town liberals is pretty convincing even. But while the story is about how Keshav wins over Jaya and is able to change the mindset of the village about open defecation, the film slowly turns into a propaganda piece. What sets out to be a love story eventually becomes a long drawn lecture on a whole lot of societal problems.
The first half is breezy and you enjoy the little banters between Jaya and Keshav. You also want to know how the couple overcome the problem. But the second half becomes a long drawn PR exercise where the writers stuff too much. From security of women, to red-tapism, to emphasising the importance of education for women- too much is fed in to the viewers making the film drag. At one point two characters even engage in an argument over Manusmriti!
There is also Anupam Kher playing a very 'liberal' uncle to Pednekar's character, who has no qualms in admitting his love for Sunny Leone and delivering lectures to  orthodox Brahmins about swachh bharat.  Toilet… seems like a long drawn advertisement for the Government's Swachh Bharat Abhiyan. And that precisely is the problem with the film.
Characters break out into long monologues about hygiene and advantages of using toilets in regular intervals in the second half and you find yourself suppressing a few yawns. The climax is rather unconvincing and very predictable.
The film is well-intended, no doubt.  Years after India's Independence, the problem of open defecation still persists and who better than Akshay Kumar to deliver an important message. But maybe the message could have been delivered in a slightly clever packaging to make it look far more engaging and entertaining.
Unfortunately, Toilet Ek Prem Katha flushes down a good message with inane jargons.
Let's Connect!
Facebook: https://www.facebook.com/bornofwebIndia/
Instagram: https://instagram.com/born_of_web/
Twitter: https://twitter.com/BornOfWeb
Google Plus: https://plus.google.com/u/1/+BornofWeb
Pinterest: https://www.pinterest.com/bornofweb/
Comments
comments