Fashion designer Rina Dhaka kept her flag flying high at various fashion weeks even while undergoing painful treatment of breast cancer. Over to Karan Bhardwaj
There was something unusual about Rina Dhaka when I met her backstage after she finished her spectacular show at AIFW-AW'17 along with her star showstopper Vaani Kapoor. The actress was vivacious throughout the conversation but I sensed Rina was pushing hard to stay focussed at that moment- as if she had a different concern running parallel in her mind. I followed the designer silently for the next few minutes and concluded it was not because of work stress or due to a tiff with any fellow designer. "What's wrong with Rina?" I dialled a couple of people with that question the next day. "She is fighting with breast cancer," one informed me on the phone, putting put my curiosity to rest. Since then, I wanted to talk to the designer to know about the improvement in her health but couldn't get the opportunity.
Last Sunday, I met Rina again after months post her show at the India Couture Week. I had alerted her PR manager (Lavli Thakur from Goodword Media) in advance to arrange this interview. On the 7th floor of the Taj Palace Hotel, we sat on a couch placed in the lobby minutes after Rina finished a couple of joint interviews with her showstopper actor, Huma Qureshi. This time, I met a different person. Strength, focus, determination, ambition, care, empathy… it all reflected in Rina's eyes and words. "To be honest, I was resisting talking about it (battle against cancer). I didn't want to give an impression that I was taking advantage of my situation to seek publicity. But during my treatment in the hospital, I met another patient who was inspired by the story of Yuvraj Singh. She told me it gave her strength to fight cancer. I think we all must share our experiences and stories with each other in order to spread inspiration," she said, rightfully.
(DON'T MISS) Nayanika Chatterjee's daughter Kiara Nayantara Singh makes her runway debut!, steals Disha Patani's thunder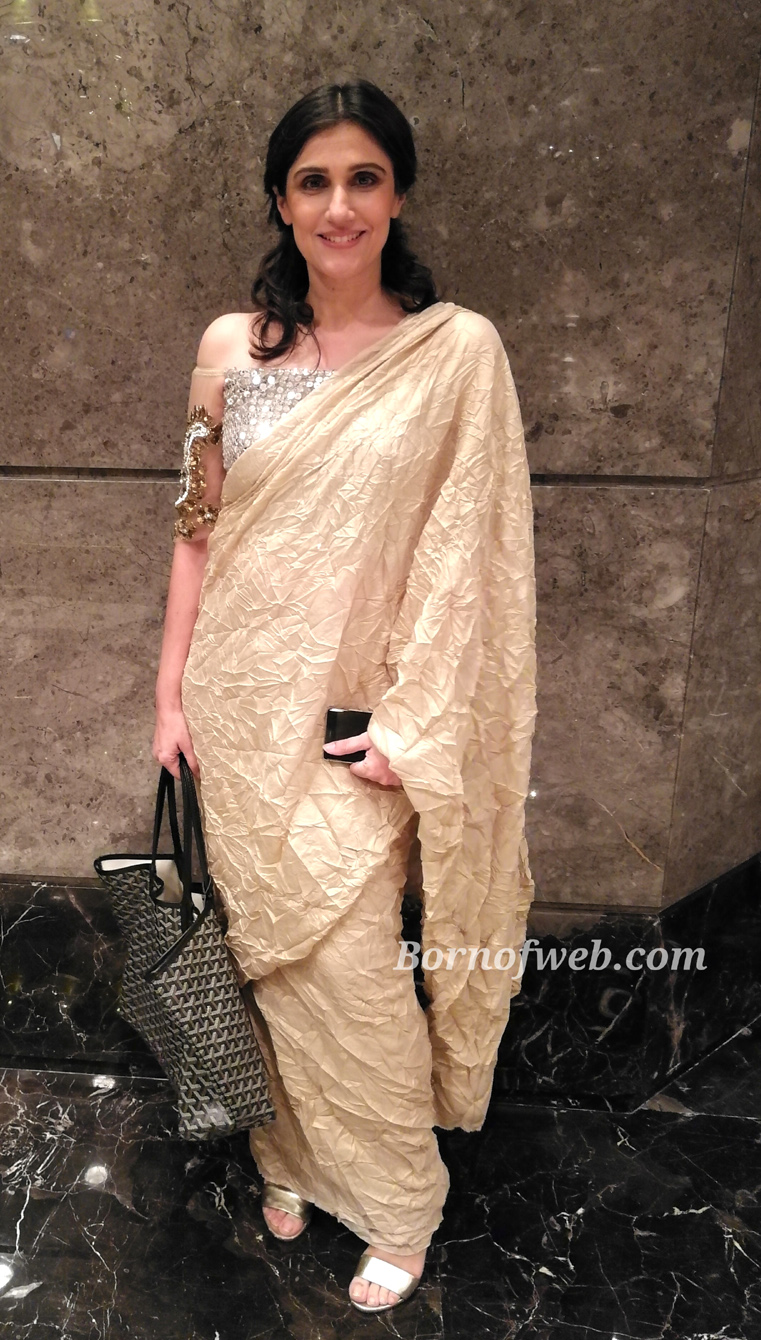 Rina was devastated when she learnt about her disease. She was avoiding tests until one day when her family forcefully took her to the doctor. It was the night of demonetisation (November 8) when the news was confirmed to her. "I looked at the doctor in her eyes and asked if this is it… And she nodded. I broke down. I had not fallen sick in the last 20 years. I have genes in me that make us (forefathers) live for at least 100 years. I had assumed I was immortal. But everything was shaken. We didn't know what stage it was, how bad it was," she recalled without an iota of fear.
Thankfully, Rina didn't have a spreading cancer and didn't have to go for mastectomy either. It must have been very brave of her to continue working with painful treatments. "I had commitments to my clients. So I couldn't stop working. I did two magnificent shows even when I was going through the radiation therapy. I think work kept me going. There was so much to worry at the workstation that I would forget about my illness," she said.
(Don't Miss) My desire is to open Indian doors to luxury brands from various countries: Ritu Beri
The whole experience has made Rina a stronger person. Now she faces challenges like a fire fighter. "I have become more 'ballsy'. At the couture week, there was a lot of chaos backstage. Just a night before my show, Mr Sunil Sethi (Chairperson, FDCI) offered me to utilise the entire hall. I was tempted but not prepared. Till 8 pm, I didn't know if I had the material for the set. While hassling around, I told myself, 'Rina, you have defeated cancer. This is nothing.' Things fell in place. Anita Dongre was gracious enough to leave her wooden floor for us. So the set came out immaculate in the morning. We were worried about Huma's clothes too. Generally, you don't do fittings with the star on the morning of your show, and that too, when they are not a regular size. But we managed with her. She was easy-breezy in the whole act," she said smiling.
Rina is on a five-year medication but is not totally impressed with the medical system. Her disease exposed her to the ugly side of the healthcare business. "Thankfully a couple of doctors paid personal attention to my concerns. But the healthcare system needs to be sensitised. They need to know it's an emotional journey more than a physical one. I was wondering if I had to go through it, how others would be treated in the absence of resources. Proper staff exists in these hospitals but all of them have become monotonous, apathetic people due to the rush and routine of the treatment. They need to be more caring towards people," she lamented.
Rina follows Buddhism, and confessed her chanting kept her steady through the challenging phase. "After a month of chanting, I slowly came out of fear and terrifying emotions," she said. Wishing her healthy life ahead!
Let's Connect!
Facebook: https://www.facebook.com/bornofwebIndia/
Instagram: https://instagram.com/born_of_web/
Twitter: https://twitter.com/BornOfWeb
Google Plus: https://plus.google.com/u/1/+BornofWeb
Pinterest: https://www.pinterest.com/bornofweb/
Comments
comments