Ever since her debut in Delhi last year, American designer-singer CHRISTINE STORM has been the talk of the town. Her golf line Peacock was her composed take on India's fancy for colours. This year, she kicked off with another rocking show at a fashion week, where her finale outfit grabbed a lot of attention, as it conveyed a powerful message on global peace. Christine's glamorous golf and resort lines along with her high-energy vocals have left many curious. In this interview with KARAN BHARDWAJ, she reveals her Indian plans and how she is mixing the two arts of creating clothes and music.
So Christine, how did your last show fare in Delhi?
It was thrilling as I got to sing during the show. I don't know if anybody (designer) has done that before here. We also had some Salsa dancers, little bit of Tango and Paso Doble. I learnt Indian people love and appreciate art and drama and that makes me feel like I fit in pretty well here.
Your golf lines are turning the sport uber glamorous!
Any woman can wear my creations, play golf comfortably and then head straight to the evening party, with just changing the footwear. I find it incredible to have a golf dress out there that's fashionable, couture-inspired and makes a woman look as beautiful as she feels and be able to make a transition to a nice evening out without worrying about running home, fighting traffic and changing her clothes. We use high end pima cotton with lycra to make dresses breathable.
Why did you pick a golf line?
I am passionate for golfing and I found golfers back in the US wearing boxy, popsicle, coloured clothes. I heard so many young girls saying they want to learn golf but they are not going to wear those clothes. And then I thought I would make clothes that would make them go to the golf even more. The concept has been there for a lot of years in my mind but I was working on the prototypes and ideas. We started out three years ago and our first line was sold out completely. Now we have decided to foray into India.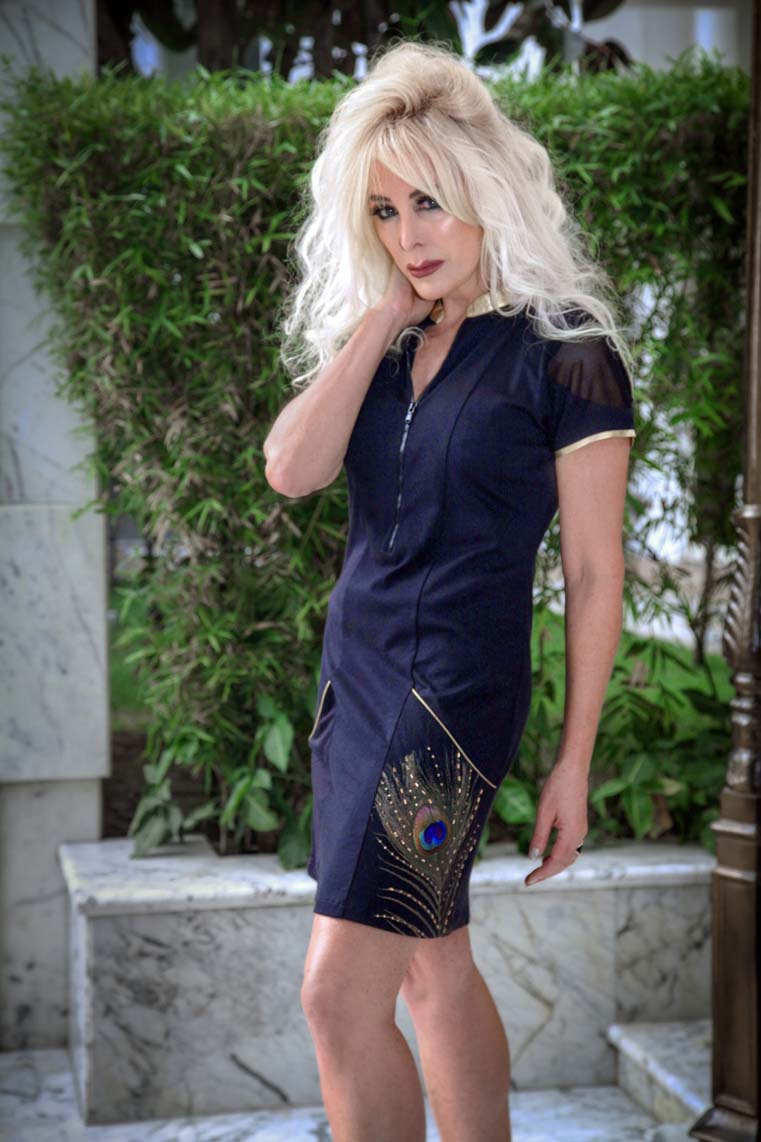 But why India?
To be honest… for fun. The people we have met here are joyful and friendly. I believe life is short, so you have to have fun and my husband always says that if you find something you are passionate about, then you would never have to work a day in your life. I was happy to be doing our first line out of different countries but I wasn't enjoying it. When we met our new friends in India, we started laughing about coming to a new destination and seeing what this country has to offer… explore joy, energy and love of art. More than anything else, India has made me say that I want to come here again.
What did you make of Indian fashion sensibilities? Did any Indian designer impress you?
Indian textiles are very breathable and relaxed. I have noticed how other designers are using them so well. You can add three or four layers of even metallic mesh and beadings and yet all the garments are breathable. I have attended Neeta Lulla's show and I am incredibly impressed by her sensibilities. Printing techniques on her outfits just blew me away. We also had a nice conversation after her recent show.
We do have a lot of colours in our dresses. How do you find that?
It was a little bit of shock initially. We work on more muted colours and our first line had lots of black, gold, silver and grey. That's what we were really accustomed to, like a lot of high fashion in America. When I came over here and saw amazing colours, I didn't lose myself wanting to do the muted colors, but I decided to embrace colours a lot more. So, we created our golf line called Peacock to symbolise our alliance with India and my love for peacocks. We also decided to embrace the natural colour scheme of a peacock feather.
Is your fashion inspired by your music, or vice cersa?
Before coming to India for the show, I checked out my recent video titled Numb. The video is all about our increasing numbness to adversities around us. We are inundated with so much of negative news that we have become numb, and have stopped fighting for our rights and life. I realised I wanted to make further comments on it, and I did it through my finale outfit for the fashion. It was beautiful kind of strappy backless sweater dress that can be worn at a variety of climates. The coat used was given to me by a friend who served in the navy long time ago. He bought it at an antique store in Korea. I repurposed it and put anticolours in a frame on the back of the coat because the show was called A Different Frame of Mind. I just wanted to show people that this antique Korean navy jacket was worn long time ago by somebody who also had a family, hopes, dreams and goals. No matter what country you belong to, you are patriotic, you believe in things and have love… so let's all take a collective deep breath and realise that we are not talking about countries all the time, we are just talking about people. People collectively want peace and that was the point of that outfit for the finale. So, I do think that there is an intersection between variations of art.
What's next for your brand?
We are looking at creating accessories… handbags, shoes and sunglasses for golfers. Also, we continue with our philanthropic activities. We are planning to launch a music charity, Jam for Joy. I think it's fun to give back to the society through music concerts.
Are you also open to collaborations with other brands and designers?
I would welcome that every day of the week. And we are actually talking to some people right now so I am very blessed about that.
Are you still writing lyrics?
I always write but I never force my writing. It comes in waves. Sometimes, I write 5-6 songs a month and they just come out instantly. Sometimes, it takes too long. For instance, Numb started coming to me probably seven years ago in bits and pieces. One day, I was watching some sad thing on news and it did dong on me. I was sad but I felt I should have been sadder. So that feeling brought that song on the surface as I realised I was getting numb with all the negative stories.
https://www.youtube.com/watch?v=M7pab_QFCRU
​If you like this story, you may also like to read:
Priyanka Chopra calls out Nirav Modi for not paying her dues for ad campaign
BornofWeb takes #PadmanChallenge to the streets. Watch Video!
#PodcastWithKaran: Neha Dhupia bares her 'Xtreme' side
(Exclusive) Sonal Mansingh debunks censorship debate, says she has been hounded for decades by 'secular leaders'
Would love to retell story of Radha from Indian mythology: Namita Gokhale, JLF co-founder & author
My desire is to open Indian doors to luxury brands from various countries: Ritu Beri
Let's Connect! Find exclusive content on your favourite celebrities on our social media links:
YouTube: https://www.youtube.com/c/BornOfWeb
Facebook: https://www.facebook.com/bornofwebIndia/
Instagram: https://www.instagram.com/born_of_web/
Twitter: https://twitter.com/BornOfWeb
Google Plus: https://plus.google.com/u/1/+BornOfWeb
Pinterest: https://in.pinterest.com/bornofweb/
Linkedin: https://www.linkedin.com/in/bornofweb/
Comments
comments