SUNIL SETHI, being the president of Fashion Design Council of India, has illustriously pushed the industry to explore new horizons in the last 10 years. Now, there's a need to introduce fresh force in the Council, he tells NAVNEET MENDIRATTA
https://www.youtube.com/watch?v=b7lLGxnC1Z8
He is a man of formidable reputation. In the world he slays, people either love him or hate him for the guts he displays. A born leader, his sharp business acumen has earned him the top position at Fashion Design Council of India (FDCI), a body he has led from the front for the last decade. But there is +much more to Sunil Sethi than the post that has held him in the centre stage of the fashion and design industry.
A natural choice for our 'Leaders of India' Series, he is as candid as we expect him to be when we catch up with him. We really are curious to know more about the man who was already successful before he donned the mantle. The man who already held a lifetime achievement award for promoting handicrafts outside India; who was already a member of various committees set up to promote exports by the Indian government.
"I got into FDCI in 2008 in July. And this marks my 10th year in the Indian fashion, so to say. Looking back, I have been so involved in the world of fashion in this one decade that I have forgotten my original journey. But then, that's who I am and there no going back on that," he reflects as we catch up with him at his residence to find out more about this enigma of a man.
Sethi comes from a family of pre-Partition settlers in Delhi. His grandfather came to Delhi in 1926 and set up a business in automobile spare parts. He was also the first one to import needles for HMV, turntables from London. Those shops still exist in old Delhi. And that was where Sethi began his career when he finished his college from SRCC.
"But that was not where my heart lay. Always the one to stay abreast of fashion, the silver screen styles influenced my sartorial choices. I would get my clothes tailored based on the latest trends drawn from the Bollywood films and could carry them off well," he smiles. He continues to be one of the best dressed men in India.
Travels to faraway lands lured him and inspired him to set up his own company in exports, called Merchants India. He began with trading hair extensions to add volume to buns and saris from India to Mauritius and carried t-shirts to Canada.
"Oh I have had many failures," he says. "But every time I failed I took on a new product. I never gave up and held my ground. And then, I went on to become a buying agent," he shares, revealing his very first and the most important mantra in life. Failure does not mean that you just give up. The trick is that you just keep going.
"Being a buying agent meant working with the best stores in the world as well as designers and specialists. On one hand it gave me the opportunity to travel around the country and source and on the other, I got a chance to work with the finest brands of the world. I was probably the first one to contemporise antique furniture and export it to the West," he shares.
In no time, Sethi was representing international designers and stores in India like Giorgio Armani Casa and was supplying to international names like Selfridges of UK, Coin of Italy, Habitat of Dublin, TsUM of Russia, and Golf & Co of Israel, with his turnover having crossed Rs 100 crore.
He confesses, "I was in awe of fashion and the designers, and I felt they enjoyed a celebrity status. The governments supported them and fashion was a serious business. They welcomed me with open arms. In fact, when I approached Selfridges to showcase in India, they promptly agreed and even gave me their show window for display! Till date, I enjoy a great trust with them and continue to work with the best."
The trust is what he holds even today with most people he deals with — be it with private sponsors or the government. Of his own accord, he shares his second big mantra of success: "Good quality control team and my knowledge and expertise in compliance gave me an edge. As I like to say: Know your strength. Focus on your work and your work will stand out."
He continues to run a successful design company in addition to his export business, and is forever open to new ideas. "I learnt on the job," he says, "And having an aesthetic eye helped. I was thrown in deep water with people from different areas of design, art, architecture and I learnt that I had to swim. Swim I did."
His entry into the FDCI was hardly a smooth one. FDCI was a fragmented body when he came in and there were only a few designers who supported him then. "Most designers went the other way," he tells us. "But my sponsors trusted me. They put their money on me, rather FDCI. It was a matter of time then that we were able to put the message across that we mean business and we are here to stay."
Over the years there are several achievements that have been clocked under his aegis – be it the inclusion of Men's fashion or the introduction of India Couture Week. His continued efforts to promote India have seen a new association with the government and related bodies, be it working on campaigns to promote handloom and textiles within or outside the country.
"FDCI is a platform, not an event agency. We introduce the buyers and thereafter it is upon them how to take the business forward. We don't take commissions. We are a body of the designers and for the designers," he states firmly.
So does he have a vision for the Council, now that all that he sought has been achieved? "I feel I have done my bit and now we need to turn to fresh blood. FDCI needs new people who may bring new systems," he tells us very honestly. "So far, I have worked with the systems I have been trained with. I would always be a part of the FDCI. But, as of now, I don't have that big vision you are looking at me to share."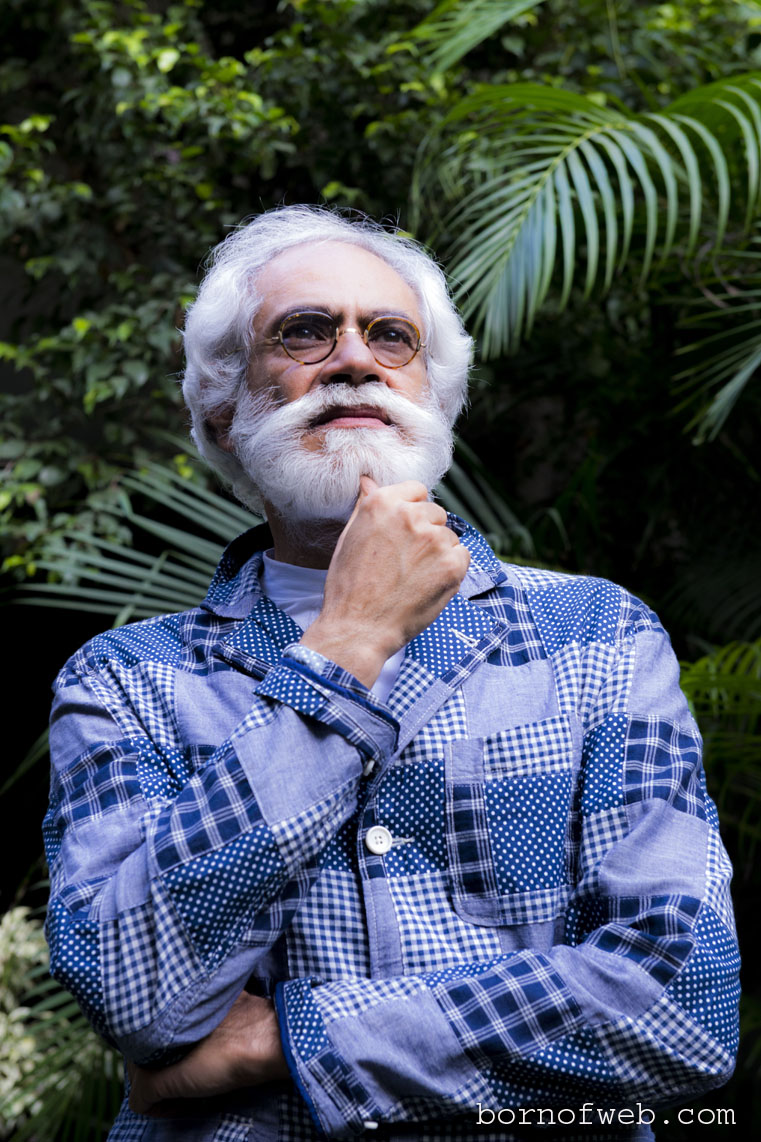 He goes on to say: "Till three years ago, we were looked upon as people for Page 3 or a selective audience and people were scared to come to the fashion week. With sustained efforts, I have seen a drastic change. Now, we are working in close coordination with the government bodies, especially, Ministry of Textiles on campaigns to promote handloom, khadi and cotton. So, my vision there is in a way complete and I only wish to see it growing stronger."
As he closes on the note that is futuristic, he makes us believe that the future of the Indian Fashion industry is indeed strong and bright. "My faith is with the Indian fashion and product designers who I feel have the capability to take the product to another level. It is already happening," he signs off.
On that note, we salute this Leader of India in his own right.
(Former editor of MetroNow, Exotica magazine and a journalist for over two decades, Navneet Mendiratta has vacillated between handling news and writing on art and lifestyle fulltime with leading publications which include The Times of India, The Indian Express, Business Standard and The Pioneer. A traveler, amateur photographer and instinctive writer, she now finds herself at home in creative spaces. She is currently heading a website wherelse.in)
Lack inspiration in life? Read following tales of iconic visionaries, presented by BornofWeb!
RITU KUMAR: If I was merely designing I would have run out of steam long ago
https://www.youtube.com/watch?v=gg2dd-7C90A
KAILASH SATYARTHI: Risking life to rescue rights
https://www.youtube.com/watch?v=KQkW1Zhntag
KALKI KOECHLIN: I have always had to explain myself how I could be so 'foreign' in my skin colour
https://www.youtube.com/watch?v=SCm-Dm3WUQs
NAYANIKA CHATTERJEE: Dark is not ugly
RITU BERI: My desire is to open Indian doors to luxury brands from various countries: Ritu Beri
SHOVANA NARAYAN: My life is influenced by lessons of Gita
NAMITA GOKHALE: Would love to retell story of Radha from Indian mythology
VIDHI SINGHANIA: Want to see a better future for weavers 
Let's Connect! Find exclusive content on your favourite celebrities on our social media links:
YouTube: https://www.youtube.com/c/BornOfWeb
Facebook: https://www.facebook.com/bornofwebIndia/
Instagram: https://www.instagram.com/born_of_web/
Twitter: https://twitter.com/BornOfWeb
Google Plus: https://plus.google.com/u/1/+BornOfWeb
Pinterest: https://in.pinterest.com/bornofweb/
Linkedin: https://www.linkedin.com/in/bornofweb/
Comments
comments