A smile can up your confidence and self-esteem. No one knows that better than Dr Ekta Chadha, the smile designer who has been beautifying and lighting up lives with her expertise and tools for a decade. Visits to the dentist need not be a scary incident anymore. No more pains, bad dreams and dilemma. Sharmi Ghosh Dastidar listens to our very own smile doctor who gives you the perfect smile and does it with painless precision
A smile it is said, is the key that fits the lock of everyone's heart. One only needs to flash those pearlies to balm over any unpleasantness. On a lighter note, people seldom notice old clothes if you wear a big smile! Peace begins with a smile… Can we actually measure all the good that a simple smile can do? Maybe not. But rest assured there is one person who can help you get close to all the goodness by gifting you the perfect grin. This is the warm and affable Dr Ekta Chadha for you. She might be known to her patients as the aesthetic dentist and a smile designer, but watching her light up while narrating her experiences we would like to christen her as the one who lights up lives with a smile.
A young girl with not the best batch of teeth once came to Dr Ekta at The Smile Studio and broke down. "As much as the parents tried to get her married, every alliance fell apart because this girl did not have a pretty smile. It was sad. I took up her case and when after all the sessions of surgery she looked satisfied. But the biggest reward was when she came to visit me one day and told me that she was getting married. This was a cheerful person who had been struck with a fresh note of self-confidence. Nothing could beat that feeling of accomplishment," says the proud doctor.
VIDYA BALAN'S GOT THE MOST BEAUTIFUL SMILE IN BOLLYWOOD: DR EKTA CHADHA
https://www.youtube.com/watch?v=ljuGEAVyn60
This brings us to the constant debate about how important are looks in defining the personality and success of an individual. "It's not about looks here you see. There are several people who are absolutely comfortable in their own skin. But there are people who would love to alter their smiles… better them. Get a perfect set of teeth. If that helps in making them feel better about themselves why should we get in the way. In fact, it makes us feel proud to add to their self-esteem and confidence. When clients give us positive feedback, it only eggs us to rev up our job."
Rough days have added to my strength as a designer: Jaya Misra
A mother, a wife, a golfer and a bridge player, Dr Ekta exhibits a multifarious personality. "I got married into a family of doctors and I was sure that I wanted to pursue dentistry but it would have to eradicate the fears one associates with a dentist. We started really small but grown by leaps and bounds by credit of our work. Today we also have a CSR initiative that works towards bettering lives of several children. While we do deal in all kinds of dental surgeries and treatments, our specialisation is the art of making the perfect smile through surgery and structuring. It's a technical but delicate science and needs precision so that the look of the person is not altered. A smile should enhance the beauty of the person not modify the way he/ she looks."
Patients travel thousands of miles for one of Ekta's smiles. The Smile Studio, founded by Ekta in 1997, is a one-of- a-kind haven for smile transformation. Renowned for enhancing smiles of many celebrities, the studio has changed the lives of thousands of people from all walks of life. Dr Ekta is also an accredited fellow. This denotes the highest level of competence awarded by the prestigious Indian Academy of Aesthetic and Cosmetic Dentistry. Ekta is also a fellow of the International College of Dentists.
Bharti Taneja: The golden lady of India's beauty industry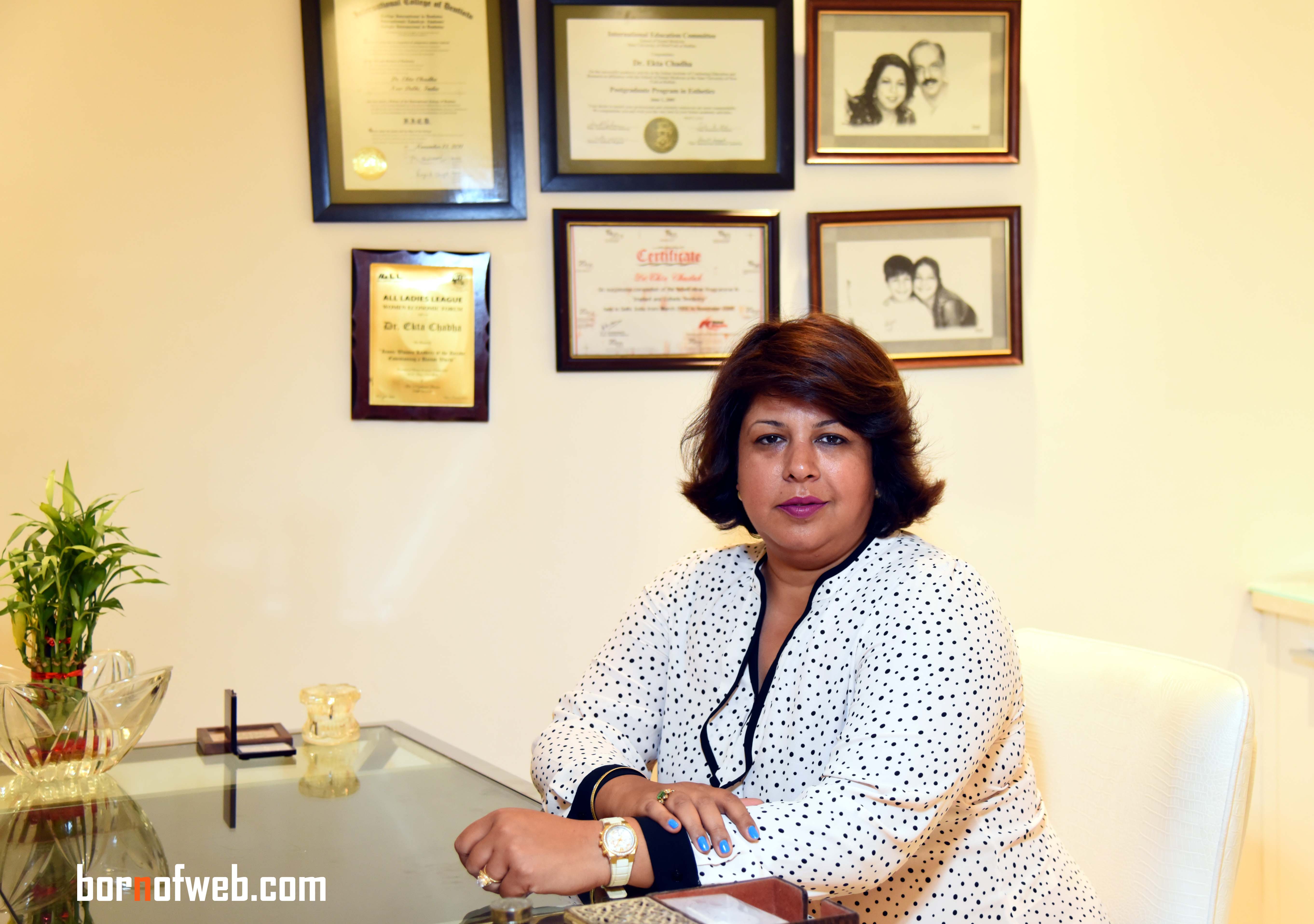 One of the most well-known names in the field of aesthetic dentistry in South Asia, she has for the past 19 years been practising her craft. Earlier the doctor was with Max Super Speciality Hospital and Fortis Hospital. Her focus has been designing smiles and as she says to her clients, "If you don't have a smile I'll give you one of mine." This has been her driving mantra in her years of practice. She has also mastered the art of laser dentistry and painless surgery to better the experience for her clients. "A lot of options are available these days and our job is to make the client's experience easy and acceptable."
Dr Ekta says she owes a lot to her mentor Dr Sandesh Mayekar. "I picked up the habit of rendering personal attention to details from him. That is a must in our profession." While success has swayed into her life, she does credit a lot to the lessons she has learnt from her mother-in-law, Dr Promila Chadha, former head of department, Gynae & Obs in Maulana Azad. "I draw my strength from her infectiously strong personality," says Ekta.
My desire is to open Indian doors to luxury brands from various countries: Ritu Beri
What is heartening is that she does not shy away from constantly mentioning the role of a supporting family in a woman's path to success. "I don't get it when women achievers say that they have risen all alone. I recognise how instrumental my family has been in my career. Without their support and guidance, The Smile Studio and Dr Ekta Chadha would have been a distant dream." Married to Dr Gaggan Chadha, a senior consultant who heads his own orthopedic unit at Sir Ganga Ram Hospital, Dr Ekta's eyes light up when she speaks about her family and her children Anisha and Aryan.
Lastly, when asked what comprises a beautiful smile this doctor is bang on. "It's the goodness in the person's heart that shines forth through her eyes. Aesthetic dentistry can only enhance that through cosmetic procedures. If you are a good person, your smile will emanate that beauty in you!"
Introducing Sushma Mathur, an extraordinary corporate lawyer and a compassionate human being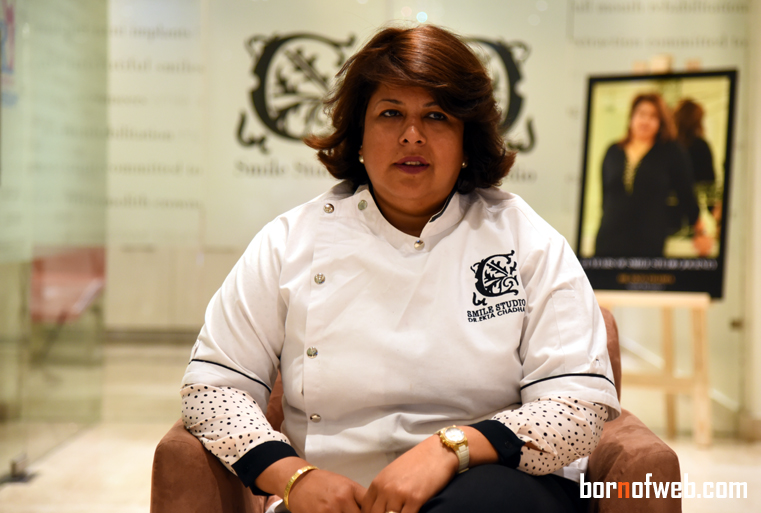 This interview is part of Born of Web's exclusive interactive series, Women Achievers' Diary, in association with Tantra by Ratna Jain. Know more about the series here!
Let's Connect!
Facebook: https://www.facebook.com/bornofwebIndia/
Instagram: https://instagram.com/born_of_web/
Twitter: https://twitter.com/BornOfWeb
Google Plus: https://plus.google.com/u/1/+BornofWeb
Pinterest: https://www.pinterest.com/bornofweb/
Comments
comments